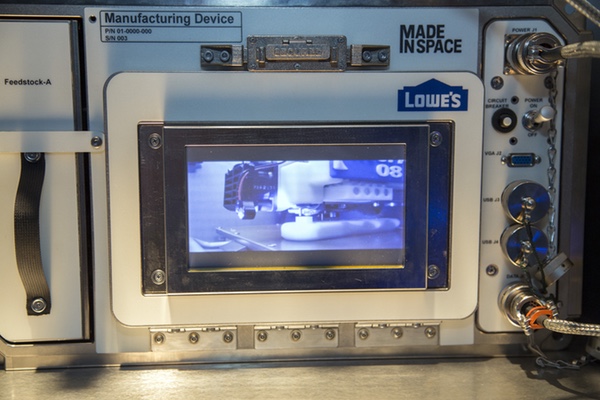 Made In Space's new 3-D printer is put through its paces on the ground. (credit: Made In Space/Lowe's)
Adding layers to 3-D printing in space
by Jeff Foust

Monday, November 9, 2015
For many people, the concept of 3-D printing—also known, somewhat more formally, as additive manufacturing—conjures visions of the replicator from Star Trek. Speak a command, press a few buttons, and in seconds your item appears. In reality, it can take a 3-D printer hours, or even days, to fabricate an item, meticulously building it up, layer by layer: the "additive" in additive manufacturing. In the end, though, it creates something that might take far longer to produce by more conventional means, if it can even be built at all.
"It gets away from the design constrains of launch," said Rush of using 3-D printing in space to assemble satellites. "Being able to deploy things quickly is valuable to a lot of our customers."
That same model might apply to one of 3-D printing's most watched applications, at least in the space industry: 3-D printing in space. The benefits of 3-D printing in space are clear: it would allow crews to produce tools or spare parts, helping solve the logistical challenges of long-term spaceflight. It could also be used to create structures that aren't possible on Earth or which could not survive the acceleration and vibration of a ride into space. But there are many layers involved in developing the technology, and business, of 3-D printing in space.
One of the companies at the forefront of that effort is Made In Space, a California company that started in 2010 after a project at Singularity University (see "The Silicon Valley of space could be Silicon Valley", The Space Review, July 29, 2013). The company has built and flown a prototype 3-D printer on the International Space Station, and has a second printer awaiting launch early next year.
The company got into 3-D printing because they believed it is an essential tool for the ultimate settlement of space. "We want to help make colonization of space a reality," said Andrew Rush, who joined the company as president earlier this year, in a talk last month at the International Symposium for Personal and Commercial Spaceflight (ISPCS) in New Mexico. "The first tool we hit upon was a 3-D printer. A 3-D printer is sort of a 'metatool': it's a tool that makes other tools."
The company demonstrated that ability to make other tools with its first printer, flown to the ISS last fall in a collaboration with NASA's Marshall Space Flight Center. That printer successfully printed out a variety of small items, including a ratchet designed and tested on the ground, and then printed on the station, in less than a week. Both the company and NASA considered the printer a successful demonstration of the potential of 3-D printing in space.
The company is now moving on to the next step, a more advanced printer known as the Additive Manufacturing Facility (AMF). "It's going to be a lot more full-featured," Rush said. While the company's original printer was basically a technology demonstration tested inside the station's microgravity glovebox, this printer will have a home in one of the experiment racks. It will be able to print "aerospace-grade" polymer composites and, he said, could be upgraded in the future to use other materials, including metals.
The purpose of the AMF, as the name suggests, is to be more than just a technology demonstration of 3-D printing but a tool to print items that can be used for other applications on the ISS. "We're really committed to having this technology be a far and wide shift in how humans interact with space," Rush said.
One of those potential applications for the AMF is fulfilling a long-term vision of space enthusiasts and entrepreneurs: manufacturing satellites in space. In August, Made In Space announced a partnership with NanoRacks for what they call the "Stash and Deploy" satellite service. Components for CubeSat-class satellites will be stored—stashed—on the station, where they can be incorporated into satellites using structures printed by the AMF for deployment from the station.
The idea, the companies say, is that satellites could be built and launched in a fraction of the time of building them on the ground, then finding a ride to orbit. The structures could also be optimized for operations in orbit without also having to be able to survive the rigors of launch. "Looking out a few years this option may be more desirable than launch and deploy," said Jeff Manber of NanoRacks in a statement about the partnership.
"It gets away from the design constrains of launch," said Rush at ISPCS. "Being able to deploy things quickly is valuable to a lot of our customers."
"If it works on the space station, it's going to be pretty good on the ground," Nel said.
Made In Space is also looking at more unconventional partnerships as well. Late last month, the company announced a deal with Lowe's, the home improvement retailer. Under the partnership, Made In Space's AMF will be able to print Lowe's-branded tools once installed on the station, while Lowe's will use that printer to promote its own use of 3-D printing back on Earth.
The agreement is specifically with a divison of Lowe's called Lowe's Innovation Labs, which a press release about the deal describes as the "disruptive innovation hub" of the retailer. "We build stuff you wouldn't expect us to build with people you wouldn't expect us to work with," said Kyle Nel, executive director of the lab, in a recent interview.
Rush, in the same interview, said one of the first parts the AMF will produce on the station is a Lowe's-branded tool. "We have a couple of different options" of what that tool will be, he said.
Lowe's in turn, will place a flight-qualified replica of the AMF in one of its stores in the San Francisco Bay Area by the end of this year. That, Nel said, will help demonstrate the capabilities of 3-D printing both in space and on the ground. "If it works on the space station, it's going to be pretty good on the ground," he said.
The actual AMF, Rush said, will launch some time in the first half of 2016, depending on the schedule of cargo missions. "There are a couple of early 2016 flights that we're looking at," he said. The company, he said, is making use of cargo space provided through the Center for the Advancement of Science In Space (CASIS), the organization that manages the US national lab element of the station.
Both Made In Space and Lowe's believe the partnership cam demonstrate the link between space and terrestrial technology, building up both additive manufacturing on the ground and in space. "It's a virtuous cycle where things that are developed for space can be used on Earth and improvements on Earth can go to space," Nel said.
---