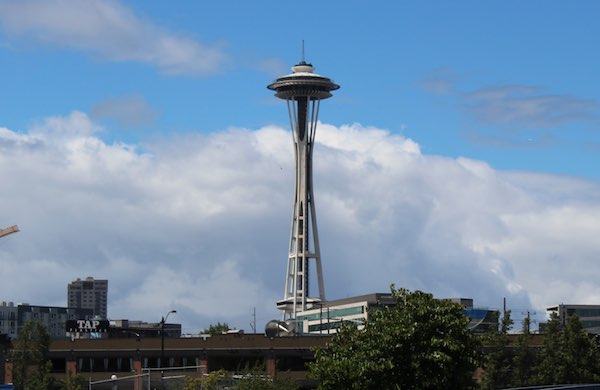 For decades, "space" and "Seattle" usually went together only in reference to the iconic Space Needle (above). Now there's a growing ecosystem of space companies that call Seattle home. (credit: J. Foust)
The Seattle space scene
by Jeff Foust

Tuesday, July 5, 2016
A quarter-century ago, Seattle was known by many as the home of Boeing, Microsoft, an up-and-coming chain of coffeehouses known as Starbucks—and an exploding music scene. In the early 1990s, bands like Nirvana, Pearl Jam, and Soundgarden, among others, became nationally and internationally famous, their grunge style become synonymous with the city. At the EMP Museum in Seattle, just down the hall from a new Star Trek exhibit (see "Storytelling with space art and artifacts", The Space Review, June 27, 2016) is one about the rise, and tragic demise, of Nirvana, couched within the broader Seattle music scene.
"I think many local companies can actually trace their roots back to Kistler Aerospace," said Andrews.
Today, Seattle is still known for Boeing and Microsoft and Starbucks (and, now, Amazon.com.) But the local field that's becoming nationally and internationally famous is not music but space. The city is home to a growing number of commercial space ventures, attracted to the region by quality of life and a large engineering workforce. It's something local business and government leaders played up at the recent NewSpace 2016 conference, held by the Space Frontier Foundation in downtown Seattle, even as they acknowledged that continued success in this industry is not guaranteed.
Deep roots
While the emergence of space startups in Seattle is relatively new, the space industry's presence in the area dates back decades. Boeing opened a space center in the Seattle suburb of Kent in 1964, and what is now Aerojet Rocketdyne has been developing spacecraft engines in Redmond, another Seattle suburb, for years. "At this factory in Redmond, we've delivered more rocket engines out of this site than any other company in the world," said Fred Wilson, director of business development at the company.
Seattle did have a space moment in the 1990s, but one in retrospect more infamous than famous. The city was home to two of the biggest commercial space ventures of that era: Teledesic, with its plans for a constellation of hundreds of broadband communications satellites; and Kistler Aerospace, which was working on a two-stage reusable launch vehicle. Both ventures ultimately failed—perhaps ahead of the times, given the current renewed interest in both satellite constellations and reusable launchers.
Those ventures may have failed, but they laid the groundwork for the companies that followed. "I think many local companies can actually trace their roots back to Kistler Aerospace," said Jason Andrews, CEO of Spaceflight Industries, during a conference panel. A former Kistler employee, he noted he shared an office for time with another panelist: Rob Meyerson, who is now president of Kent-based Blue Origin.
Key reasons
Andrews said that when he started his first post-Kistler space company, called Andrews Space, it was originally based in Southern California. "We moved back here, quite frankly, because of the quality of life. The quality of life is better here than in Southern California," he said.
Quality of life was one theme that emerged in discussions among business and government leaders about why space companies are setting up shop in Seattle, but it's a factor hardly unique to that industry. Many technology companies have offices in Seattle even if they're based in Silicon Valley or elsewhere to access those people who don't want to move from Seattle.
"When it came to figuring out where to build Planetary Resources, it was a very conscious choice that we came here to Seattle," said Lewicki.
That large workforce, in aerospace and other facets of technology, is one key factor for Seattle's emerging space industry. "Our aerospace workforce numbers more than 130,000 of the best trained men and women in the world, working in some 1,350 aerospace-related firms," said John Thornquist, director of the state's Office of Aerospace. "We have the deepest pool of software talent outside of Silicon Valley."
That workforce was just one of four factors that Thornquist identified as key to the region's growing commercial space industry. Others include an "ingrained culture of entrepreneurship," research capabilities in both industry and academia, and support from local and state officials.
Others who are relative newcomers to Seattle agreed with many of those factors. "There's just so many that are small," said Chuck Beames, president of Vulcan Aerospace, referring to the number of space startups in the region. While Vulcan is best known for Stratolaunch Systems (see "Inside Stratolaunch", The Space Review, June 20, 2016), it's also an investor in companies, including Spaceflight. "It's unbelievably entrepreneurial."
"When it came to figuring out where to build Planetary Resources, it was a very conscious choice that we came here to Seattle," said Chris Lewicki, president and CEO of Planetary Resources, the company with long-term asteroid mining ambitions. He previously lived in Southern California, a move he said he made solely because he wanted to work at JPL.
At the time he was establishing Planetary Resources several years ago, Seattle's space industry was much lower profile than it is now. Moving to Seattle, he said, was spurred by the belief that the area was a good place to set up shop for the long term—important if it's going to take years to realize your asteroid mining ambitions. "I talk to a lot of people in other places where there is aerospace, and they're saying, 'Well, I'll be there for a while and then I'll move on to something else,'" he said. "But I think Seattle is really a place where you can build out the business until the end of the time."
Seattle's space future
Much of the first day of the conference—being held in Seattle for the first time after spending the last several years in Silicon Valley—was a sales pitch for Seattle to commercial space ventures: move, or expand, to Seattle to take advantage of the quality of life and workforce and entrepreneurial spirit. And did we mention the quality of life?
But a nice climate and plenty of good restaurants will only go so far. How long can the commercial space industry grow in the Seattle region?
Andrews, whose company used the conference to announce a $25-million funding round and the acquisition of a Virginia-based geospatial data company, thinks Seattle is well positioned to continue to be an industry hub. "There's a lot more going on there than most people realize," he said.
He argued there are three "revolutions" going on in the space industry. One is in Earth imaging, with many companies planning either satellite constellations (like Spaceflight's BlackSky) or value-added services, which he said is overall "mainly a West Coast thing." A second revolution is in telecommunications, which has strong roots in the region; it's why, he argued, SpaceX opened a Seattle-area office last year to work on its proposed broadband satellite constellation.
"Finally, the ultimate Holy Grail is about creating a permanent human presence in space," he said, which Blue Origin and Vulcan are taking the lead on. "From that standpoint, I think the epicenter is here."
"Telling your congressman that you're interested in space and the space industry is the first thing," Meyerson said when asked by a local resident what he should tell his elected representatives to encourage them to keep the BE-4 factory in the state.
Seattle, though, doesn't have everything. Rockets and satellites can be built in Seattle, but they have to be shipped elsewhere for launch. "Sadly, we can't yet build a launch pad here in Seattle to fly rockets," said Blue Origin's Meyerson, whose company is starting construction now of a factory outside the gates of the Kennedy Space Center in Florida for its planned orbital launch vehicle, which will fly from a nearby pad at Cape Canaveral.
Thornquist, in his earlier talk at the conference, briefly mentioned aerospace testing at Moses Lake in the central part of Washington state, home to a runway 4,100 meters long. Back in the 1990s, state officials were interested in turning it into a spaceport for Lockheed Martin's VentureStar reusable launch vehicle, an effort that fell through when VentureStar faded away.
There's also growing competition from other states that want to grow their space industries. Some, like Florida, have become aggressive in recent years, offering lucrative incentive packages that have been successful in attracting Blue Origin's rocket factory and, more recently, OneWeb, who will build a satellite manufacturing facility across the street from Blue Origin's plant.
Meyerson suggested Blue Origin would keep that in mind when the company decides on a site for a factory to build its BE-4 engine, to be used by both its orbital rocket and United Launch Alliance's Vulcan vehicle. "We're about to kick off that site survey," he said, with a decision on where to build the factory to come in about a year.
And while BE-4 engines will initially be built at Blue Origin's Kent headquarters, that doesn't mean the dedicated engine factory will be built anywhere in the region. "Telling your congressman that you're interested in space and the space industry is the first thing," Meyerson said when asked by a local resident what he should tell his elected representatives to encourage them to keep that factory in the state. "And it's encouraging them to continue to do things, make investments in education, investments in the kinds of things that are going to bring businesses like Blue Origin and keep us here in the area."
So, in 25 years, will Blue Origin, Planetary Resources, Spaceflight, or another space startup join Microsoft, Boeing, Amazon, and Starbucks as Seattle-based corporate giants? Andrews believes the potential is there. "We are really changing how we look at the planet. We think that's going to be as big as Facebook or Google," he said of his company's interest in Earth observation. "These are big visions we have here in Seattle."
---