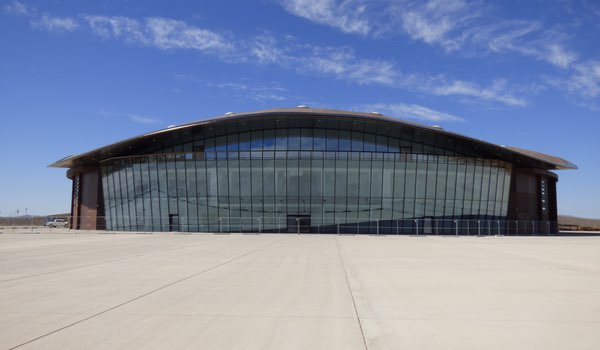 The main terminal building at Spaceport America. While the building was constructed for Spaceport America, the spaceport is working to bring in other aerospace and non-aerospace customers. (credit: J. Foust)
A changing of the guard at Spaceport America
by Jeff Foust

Monday, August 29, 2016
Christine Anderson had completed a 30-year civilian career in the US Air Force when the new administration of New Mexico Governor Susana Martinez contacted her in early 2011. Would she be interested in taking over as executive director of the New Mexico Spaceport Authority, and the CEO of Spaceport America? "I'll do it for a year. That sounds like fun," she recalls responding.
But as Virgin's schedule slipped, Anderson and her staff worked to diversify the spaceport's customer base.
Earlier this month, five and a half years after taking the job, Anderson finally retired from the post. During that time, the state completed construction of the major facilities at the $200-million spaceport, including a terminal building and runway for its anchor tenant, Virgin Galactic.
However, the start of commercial flights by Virgin's SpaceShipTwo has also slipped during her tenure, due to development delays and a fatal crash in a test flight nearly two years ago. The company has recently suggested the test campaign for the second SpaceShipTwo, unveiled earlier this year (see "Relaunching a spaceship", The Space Review, February 22, 2016), might begin soon, but the company has stayed away from offering detailed timelines for beginning flights.
Originally, Virgin Galactic was seen as the primary user of the spaceport, the customer whose requirements drove the development of its major facilities and who would provide the bulk of the spaceport's revenue through rent and other fees. But as Virgin's schedule slipped, Anderson and her staff worked to diversify the spaceport's customer base.
Part of that diversification including bringing in other aerospace companies for various kinds of flight testing. The remote location ("a very magical location to attract customers," as Anderson put it in an interview earlier this month) has attracted companies do a variety of testing, much of which remains confidential under non-disclosure agreements.
However, Spaceport America has been seeking opportunities in other fields beyond aerospace, including using the spaceport itself as a backdrop. "Our primary business is aerospace but we're getting a lot more photo shoots, and we had a movie shoot last year," she said, a reference to filming scenes there for the upcoming movie The Space Between Us.
Anderson argued that the diversification effort was not tied to Virgin Galactic's delays. "In order to be viable as a commercial spaceport, no matter who your tenants are, you really are more like the airport model in the sense that you're going to have multiple customers," she said. "That diversification, in not only the air and space businesses but also non-aerospace, is critical to success."
"Hopefully this time next year they'll be here," she said of Virgin Galactic. "They're on the right path and we look forward to having them here."
The latest example of this diversification effort came two weeks ago, in Anderson's final week on the job. Spaceport America announced a series of "signature events" that will be held over the next year at the spaceport. Some are aerospace, or at least spaceport, related: an open house at the spaceport October 1, a drone summit in mid-November, and the Spaceport America Cup university rocket competition next summer.
Others, though, aren't closely tied to space. The Spaceport America Mile, scheduled for next March, will turn the spaceport's runway into a speedway for a racing event. The following month, the spaceport will be the finish line for the Spaceport America Relay Race, a two-day, 200-mile (320-kilometer) race that will start in El Paso, Texas.
"With something for everyone, people who might not ever have engaged with a commercial spaceport can now visit, share and leave inspired," Anderson said in the release announcing the event series. "These recurring annual events will bring thousands of visitors to New Mexico and benefit our tourism and local economies."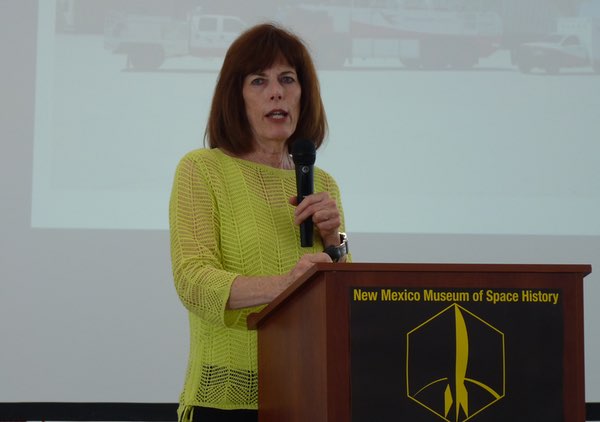 Christine Anderson speaking at a 2013 event at Spaceport America marking the 20th anniversary of the first DC-X flight. (credit: J. Foust)
It also helps in that diversification effort. "You can't rely on one customer. You'll never be successful that way no matter how successful that customer is," she said in the interview. "Obviously, it became more important when that one customer had a delay, but it's just an essential way to run a commercial spaceport."
That "one customer," Virgin Galactic, is still essential to the spaceport. Anderson said she had been meeting monthly with company officials, while other spaceport staff work interact with the company daily. Virgin Galactic spent a week at the spaceport in April doing exercises with WhiteKnightTwo, the carrier aircraft for SpaceShipTwo, as part of planning for eventual flights there.
"I anticipate that will increase over the next year, coming out and becoming more familiar with our airspace and ground operations," she said. "Hopefully this time next year they'll be here. They're on the right path and we look forward to having them here."
Whether or not Spaceport America pursued that diversification because of Virgin's delays, it has helped with generating revenue for the spaceport to cover some, but not all, of its operations costs. "We're at the point this year of being 75 percent self-supporting, and next year it should go up to 90 percent," she said. The goal, of course, is for the spaceport to be self-supporting, and thus require no additional support from the state. "We're almost there."
The lengthy delays in getting Virgin Galactic up and running at the spaceport have created some controversy within the state, at one point prompting a state legislator to introduce a bill calling for the state to sell the spaceport. As the spaceport has found success diversifying its business, Anderson said it's helped smooth over relations with those legislators, at least to a degree.
"I could stay another five years and I'd enjoy it immensely," she said, "but it's probably time to turn it over to someone else to take it to the next level."
"It's always difficult to get the message out. It's one of the biggest frustrations I have sometimes, because we are doing so well," she said. "It's very difficult sometimes to get that word out to people who aren't in the commercial space industry so that when you do go to the legislature, the legislators don't say, 'Well, what have you done lately?'"
That frustration will now fall on the shoulders of her successor. The deadline for applications closed earlier this month, but state officials have said little about when it might hire a replacement for Anderson.
Whoever takes the job, Anderson advised, should be prepared to deal with a wide range of issues given the small size of the spaceport's staff. "We've got a great crew here, but we're one deep in everything," she said. "The CEO, while you do CEO stuff, you're also required to roll up your sleeves and do lots of other stuff, too."
"Obviously, space credibility in the industry is also an important thing to bring to this job. But having a broad background really serves you well," she added.
Anderson, who has no plans lined up after leaving the spaceport beyond taking a vacation, said she felt now was the time to leave given the progress the spaceport has made, even though a lot of work lies ahead for the state to realize the ambitions established for the spaceport by state officials more than a decade ago.
"I could stay another five years and I'd enjoy it immensely," she said, "but it's probably time to turn it over to someone else to take it to the next level."
---