An Atlas 5 lifts off from Cape Canaveral September 8, carrying NASA's OSIRIS-REx asteroid sample return spacecraft. (credit: J. Foust)
A tale of two launchers
by Jeff Foust

Monday, September 12, 2016
The current state of the American launch industry, in microcosm, was on display last week over the span of a few kilometers at Cape Canaveral Air Force Station in Florida.
Last Wednesday, at Space Launch Complex (SLC) 41, a United Launch Alliance Atlas V made its way from its vertical assembly building to the nearby launch pad, in preparation for a launch the next day of NASA's OSIRIS-REx asteroid sample return mission (see "A seven-year mission", The Space Review, September 6, 2016). That rollout, like other preparations for the mission, was going like clockwork, much as they had for dozens of previous missions dating back 14 years.
"Still working on the Falcon fireball investigation. Turning out to be the most difficult and complex failure we have ever had in 14 years," Musk tweeted.
The journalists, NASA Social participants, and other guests who came out to view the rollout at SLC-41 couldn't help but notice the scene just to the south, at SLC-40. Six days earlier, a SpaceX Falcon 9 sitting on the pad, being fueled in preparation for a static fire test, suddenly exploded, destroying the rocket and its payload, the Amos-6 communications satellite (see "Blasting to conclusions", The Space Review, September 6, 2016).
SLC-40 clearly looked the worse for the wear. The top of one of four lightning towers surrounding the pad, normally white, was instead black, apparently from the fireball that consumed the rocket and satellite. The "strongback," the cradle that supports the rocket on its horizontal rollout to the pad and once moved to the vertical position, was still standing in the middle of the pad, but also blackened. The top of the strongback appeared to be sagging, and closeup photos showed it trailinh wires or cables of some kind.
What happened on the pad on the morning of September 1 remains a mystery. The company's last public update about the "anomaly," as it calls the loss of the vehicle, was posted on its web site September 2, despite a promise to provide "regular updates on our progress and findings."
That may be because there's been little progress, at least in terms of identifying the root cause of the failure. "Still working on the Falcon fireball investigation. Turning out to be the most difficult and complex failure we have ever had in 14 years," SpaceX founder and CEO Elon Musk tweeted late in the night of September 8, the last update he's offered about the failure.
The explosion took place during a "routine filling operation" of the rocket's propellant tanks about eight minutes before the scheduled static fire test. "Engines were not on and there was no apparent heat source," Musk wrote.
"Particularly trying to understand the quieter bang sound a few seconds before the fireball goes off. May come from rocket or something else," he added.
That SpaceX and its investigation team, which incudes personnel from NASA, the FAA, and the Air Force, has not found a clear cause after sifting through 3,000 channels of telemetry has not deterred individuals with little or no launch vehicle experience from scrutinizing the one video available of the explosion. Message boards and email lists are full of speculation based on analysis of the video, trying to divine the cause of the accident based on what they believe are irregularities they see or hear.
The longer the accident investigation stretched out, the longer it will take SpaceX to return to flight, regardless of whether the accident was caused by a launch vehicle flaw or a problem with ground support or other equipment. That means delays for its list of government and commercial customers, who, for now, continue to stand behind SpaceX.
"It sucked," said Bill Nye, the CEO of The Planetary Society, when asked about the accident during a discussion with reporters at the Kennedy Space Center just before the OSIRIS-REx launch. The organization's LightSail-2 spacecraft, a CubeSat designed to test solar sail technologies, is a secondary payload on the second Falcon Heavy mission, which, after a number of delays, was finally set to launch next spring.
That launch is now likely facing another delay. "Those people are going to pick themselves up and figure this out," Nye said of SpaceX. "They'll figure out it, and they'll be ready to play."
"If you've been in this business long enough, you've experienced a day like last Thursday," said Tim Dunn of NASA's Launch Services Program at a briefing at KSC last week, referring to the SpaceX pad accident. "SpaceX is a very resilient company… We look forward to their return, soon."
"It sucked," said Bill Nye, the CEO of The Planetary Society, when asked about the accident.
Of course, for many of those customers, they have little choice but to sit and wait and express confidence—or hope—that SpaceX returns to flight soon. There are few options for customers to switch to another launch provider, unless they want to go to the back of the line. Moreover, other companies are having problems of their own as well: Russia's Proton rocket has been sidelined since an anomaly on a June mission.
Meanwhile, Orbital ATK, the other company with a current NASA contract to deliver cargo to the International Space Station, has yet to return its Antares to flight after a launch failure in October 2014. The first flight of the Antares with its new RD-181 engines is now scheduled for this month, according to a launch schedule on the NASA website, buy many industry observers expect that launch to take place no earlier than October, and possibly as late as the end of the year or beyond.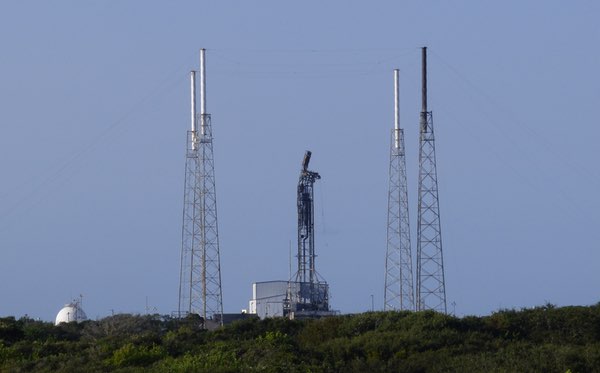 Damage to SLC-40, SpaceX's launch pad at Cape Canaveral, was clearly evidence September 7. (credit: J. Foust)
Selling Atlas and forging Vulcan
The SpaceX pad accident did affect another launch company: ULA. "We had a little schedule to recover after the events of last week, because we got evacuated from our pad," ULA CEO Tory Bruno said in an interview last week, the "events of last week" a euphemism for the fireball on SLC-40.
Bruno added that ULA was back on schedule a couple days later, after doing a "special cleaning" of the rocket. "That was something we had to do because of the incident over there on the other pad," he said.
The rest of last week's launch went according to plan, with the Atlas lifting off on schedule at 7:05 pm EDT Thursday evening and sending OSIRIS-REx on its way an hour later. "This was an excellent launch," Dunn said after spacecraft separation. "Not a single anomaly was worked during the countdown. That's almost unheard of."
Bruno is hoping that performance and reliability can win over customers in the commercial market. "There's been a lot of interest in Atlas," Bruno said. "I think there was a perception in the commercial marketplace that ULA was really focused on NASA and the Air Force and there was not availability in our manifest. That's really not the case."
"I think there was a perception in the commercial marketplace that ULA was really focused on NASA and the Air Force and there was not availability in our manifest. That's really not the case," Bruno said.
ULA has two commercial Atlas launches planned for the remainder of the year, including the launch of DigitalGlobe's WorldView-4 satellite scheduled for Friday at Vandenberg Air Force Base in California. "I have slots reserved and available for people next year and the year after," Bruno said. "We're getting that word out and the commercial operators are very interested."
A bigger challenge for ULA is completing head-to-head with SpaceX for a series of launches in the coming years. After SpaceX was certified by the Air Force last year, it was eligible to compete for launches that had, in the past, been assigned to ULA. In the first competition, for a GPS 3 satellite, SpaceX won, but by default: ULA declined to bid.
"We were unable to participate last time," Bruno said, citing three reasons. One was that the company said it did not have any RD-180 engines available, which was solved by legislation last year that loosened restrictions on the availability of the Russian-built engine used on the Atlas 5.
The second was what Bruno called "very strange cost certification requirements" that took him by surprise. "We had to certify that not one dollar from any other contract in any way was part of this effort," he said. That, too, has been resolved, he said.
ULA is still grappling with another issue: the Air Force, in both the previous competition and an ongoing one for another GPS 3 satellite, is basing the selection primarily on price. "Reliability or past performance or technical capability, none of that stuff was allowed to be brought in as a differentiator," he said. "I don't personally have any experience with that applying to space or space launch, which is a complex, high-risk kind of endeavor. The events of last week, I think, highlight that."
But while Bruno is disappointed that the strengths of Atlas aren't given enough weight, he suggested that ULA would submit a bid this time around. "I don't personally find it an appropriate way to purchase this kind of high-risk complex activity," he said. "But be that as it may, it's my strong desire to participate in every competition that I can, and I'm qualified for."
Winning those competitions, as well as other commercial business, is important to ULA since the cash flow from those launches is funding the development of its next-generation launch vehicle, Vulcan. "We're not financing it with debt, and we're not bringing in private investors other than our strategic partners who are a part of the program," Bruno said. "Our investment comes from the money we make by continuing to sell space launch services, so we have to keep maintaining a viable business on those launches in order to generate those funds."
Work on Vulcan remains on track, he said. An upcoming major milestone is a full-scale static-fire test of the BE-4 engine that Blue Origin is developing both for Vulcan and its own "New Glenn" orbital launch vehicle. That engine remains the baseline for Vulcan, but Bruno said that ULA won't make a formal decision on whether to use it until after that test.
Bruno: "There's all sorts of technical challenges ahead of us that I have do doubt we'll overcome, but until you're done you're never 100 percent sure."
"That may occur by the end of the year, but I could see it moving into the spring a little bit, to make sure we have enough test data and we feel confident about where we're at," Bruno said of the test. "But that's all consistent with our baseline, so I'm feeling very good about it."
Aerojet Rocketdyne is developing the AR1 engine as an alternative to the BE-4, but that is not as far along in development as the BE-4: Bruno said that while the BE-4 is at the critical design review phase of maturity, the AR1 is at the preliminary design review level.
But, Bruno cautioned anything could happen, both with the engine selection and the overall development of Vulcan over the next few years. "It's not over until it's over. Rocketry's hard, and development is the hardest part," he said. "There's all sorts of technical challenges ahead of us that I have do doubt we'll overcome, but until you're done you're never 100 percent sure."
---