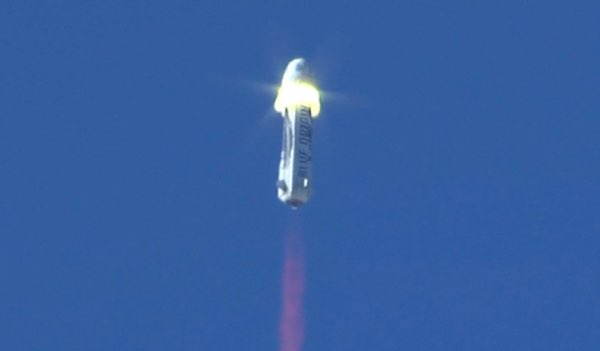 The New Shepard crew capsule ignites its abort motor during an in-flight abort test October 5. (credit: Blue Origin)
The suborbital space non-race
by Jeff Foust

Monday, October 17, 2016
The marketplace of companies developing commercial human spaceflight vehicles has shrunk significantly in recent years. At the peak of the original Ansari X PRIZE competition more than a decade ago, some two dozen teams claimed to be developing suborbital vehicles. Most faded away after Scaled Composites' SpaceShipOne claimed the prize in 2004, but some of them, and others not part of the competition, continued on. However, Rocketplane Kistler filed for bankruptcy in 2011 and Armadillo Aerospace founder John Carmack said in 2013 his company was in "stasis." Earlier this year, XCOR Aerospace announced it was putting development of its Lynx suborbital spaceplane on indefinite hold—laying off a significant fraction of its workforce in the process—to focus on engine development work.
"We're getting really close to that; in fact, we're probably just a month or two away from being ready to start our glide test flight program," Moses said.
That leaves Blue Origin and Virgin Galactic as the last two companies standing with a chance to field suborbital human vehicles, for tourism or research applications, in the next few years. Both companies are flying vehicles on test flights, and expect to be carrying people commercially within a couple of years. It's tempting, then, to see the two companies as being in a race against each other to be the first to start flying people commercially. Yet neither company shows signs of being in a race with the other.
That was the message the presidents of both companies—one of whom was named to the post literally minutes before his speech—offered in back-to-back speeches last week at the International Symposium for Personal and Commercial Spaceflight (ISPCS) in Las Cruces, New Mexico. Both talked about the progress they're making on their suborbital vehicles, but neither gave any hint they were racing to be the first to enter commercial service.
The newly-appointed president at ISPCS was Mike Moses, formally announced as president of Virgin Galactic in a release that went out shortly before his talk on the morning of October 13. Moses, a former NASA flight director and shuttle launch integration manager responsible for the final 12 shuttle launches, joined Virgin Galactic in 2011 as vice president of operations. He replaces Steve Isakowitz, who left the company this summer to become president and CEO of The Aerospace Corporation.
Moses said that Virgin Galactic was making good progress on the flight test program for the second SpaceShipTwo, named VSS Unity when it was unveiled at an event in Mojave in February, replacing the first SpaceShipTwo lost in a fatal test flight accident two years ago (see "Relaunching a spaceship", The Space Review, February 22, 2016). That vehicle took to the skies for the first time September 9 on a "captive carry" flight, remaining attached to its WhiteKnightTwo carrier aircraft for the entire flight, lasting nearly four hours.
"We took advantage of our air-launch architecture to really use that as a flying wind tunnel to test all of the various components of the spaceship in a nice, safe captive-carry-type mode," he said. "We were able to achieve almost 96 percent of our objectives, and it looks like we don't have to re-fly a captive carry."
That means that the next SpaceShipTwo flight will be a glide flight, where the vehicle is released from WhiteKnightTwo and glides to a runway landing. "We're getting really close to that; in fact, we're probably just a month or two away from being ready to start our glide test flight program," he said.
In an interview after his speech, Moses said the company only had a range of glide flights it planned to carry out, rather than a specific number, before moving on to powered test flights. The company, he said, has a set of objectives it needs to achieve on those glide flights before powered flight start. "There's ten glide flights' worth of targets," he said. "We could do those in eight flights, or might take 15, but we're not going into the next phase before we clear those."
Moses, in the interview, emphasized that SpaceShipTwo's hybrid rocket motor, whose development had caused many challenges for the program in the past, including an accident in a 2007 test by Scaled Composites that killed three employees, was no longer an issue. At the rollout event in February, Moses and other company officials said that the company had made a breakthrough in the design of the engine that improved the performance and eliminated issues like vibrations.
Moses said at ISPCS that while some qualification tests of the motor are continuing to understand its performance in various conditions, it is essentially ready to go now. "If the spaceship was ready, we could do a powered flight tomorrow," he said.
When powered flights do begin, Moses said in his speech that it will involve a gradual, incremental series of missions. "We'll start slow, if you think of 'slow' as going just above Mach 1," he said. "We need to get past that sound barrier into the transonic region, an area where those handling qualities again get a little squirrely."
Meyerson said engineers made changes to the booster to improve the odds it would survive the test. "And then, honestly, we crossed our fingers."
"Once that's under our belt, we'll punch through pretty much to full duration, and we'll start to expand the envelope and look at all the various off-nominal conditions that occur," he said. Those tests, he said, will take place at Mojave Air and Space Port in California, although he added a final set of test flights could take place at Spaceport America in New Mexico just before the company starts commercial flights there.
Moses didn't give a schedule for those flights; company officials have for years been reticent to give specific timelines even as Virgin Galactic founder Sir Richard Branson made a series of predictions—ultimately unrealistic—about when commercial service would begin. Even Branson, it seems, has gotten the message: in a blog post last month about the captive carry test flight, he makes no mentions of schedules. "[O]ur Mojave team is at the start of exciting work ahead and will show the world what our spaceship can do. Together, we are all off to a promising start," he wrote.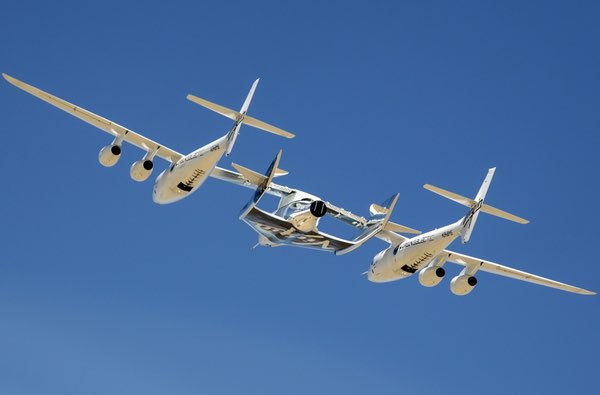 The second SpaceShipTwo, VSS Unity, takes to the skies for the first time on a captive carry flight September 9. (credit: Virgin Galactic)
Following Moses on the ISPCS stage was Rob Meyerson, president of Blue Origin. He spoke at the conference eight days after the latest New Shepard test flight, which demonstrated the in-flight abort capability of the vehicle's crew capsule. On that flight, the crew capsule fired its abort motor about 45 seconds after liftoff, speeding away from the vehicle's propulsion module and making a normal parachute landing.
Blue Origin had warned in the days and weeks leading up to the abort test that it would likely destroy the propulsion module. "The capsule escape motor will slam the booster with 70,000 pounds of off-axis force delivered by searing hot exhaust," wrote company founder Jeff Bezos in a blog post in September announcing plans for the test. "The aerodynamic shape of the vehicle quickly changes from leading with the capsule to leading with the ring fin, and this all happens at maximum dynamic pressure."
The company, though, didn't rule out saving the propulsion module, which had flown on four previous New Shepard flights dating back to November 2015. Meyerson said at ISPCS that analyses indicated it was possible for the module to survive, and that engineers made unspecified hardware and software changes to the booster to improve those odds. "And then, honestly, we crossed our fingers," he said.
Those preparations—and maybe the finger-crossing, too—worked. On that flight, the booster continued flying after the capsule separated, emerging from the abort motor's plume seconds later as if nothing had happened. The booster made a successful powered landing minutes later, looking a little beat up and singed but otherwise little worse for the wear.
"Despite the abuse of 70,000 pounds of thrust blasting it, the booster barely budged off course," Meyerson said. The test, he said, demonstrated that if the company needs to test its abort system again, it could do so on a flight like this without risking the booster. The data from the test will also go into planning for stage separation events on future orbital vehicles, like the New Glenn rocket the company announced last month (see "The new era of heavy lift", The Space Review, September 19, 2016).
Both the propulsion module and the crew capsule—which flew on the same five flights as the booster, plus two previous tests—are being retired after this test. Meyerson said after his speech that the company has new boosters and capsules being manufactured that should be ready for test flights within the next few months.
With the in-flight test complete, Meyerson believes that New Shepard, which has flown all its test flights to date without a crew, can start carrying people next year, at least on test flights. "This test got us one step closer to human spaceflight," he said. "We're still on track to flying people, our test astronauts, by the end of 2017, and then starting commercial flights in 2018."
"All of us need to succeed," Moses said. "This can't be just a single entry, a single person, a single company type of world."
Blue Origin, though, has yet to start selling tickets for those suborbital flights. While the company now talks about its "astronaut experience" on its website, including a day of training prior to launch from the company's West Texas site, it has yet to start taking ticket orders or even stating the ticket price. Virgin Galactic, meanwhile, says it has about 700 people signed up for suborbital flights, a number that has remained fairly constant since the aftermath of the 2014 accident.
Neither company president gave an indication in their talks that they're racing the other to be first to enter commercial service. Both, in fact, seemed focused beyond their individual test flight programs to their future plans.
"New Shepard is just the beginning," Meyerson said, discussing the company's growth—its workforce has doubled in the last year to 800 people—and its development of New Glenn and its Florida launch site and factory. The company has already noted in its discussion of the New Shepard astronaut experience that those who fly suborbitally on that vehicle "will receive early access to purchase tickets for our future orbital missions."
Moses, in his ISPCS talk, pitched a vision of "building a culture of human spaceflight" at Virgin while also noting he expects to be joined by other companies offering human spaceflight. "We do that together, and we do it because it's our future; it's the future we need to make happen," he said.
"All of us need to succeed," he added. "This can't be just a single entry, a single person, a single company type of world. We see that today with great competition, but also great collaboration amongst those competitors, to get to the future that we all have, together."
---