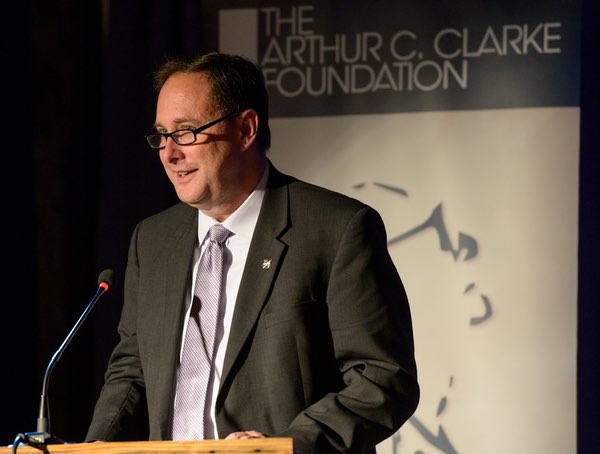 NASA associate administrator Robert Lightfoot accepts an award on behalf of NASA at the Arthur C. Clarke Foundation's awards event in Washington, DC, November 29. (credit: NASA/Joel Kowsky)
The engineer and the imagineer
by Jeff Foust

Monday, December 5, 2016
At first glance, it seemed like an odd couple, sitting at a table in a meeting room in a co-working space in downtown Washington, DC, being taken over for an evening last week by the Arthur C. Clarke Foundation. Both individuals had engineering backgrounds, but had gone in very different directions: one primarily in the arts and entertainment, the other climbing through the ranks of a space agency.
"I'm a little worried about a lifetime achievement because it does imply the end of a career," Lightfoot quipped. "I think NASA's got plenty to do going forward."
Both were being honored by the foundation for the individual and group achievements. Bran Ferren received the foundation's Award for Imagination in Service to Society for his work at Disney and his own company, Applied Minds. Robert Lightfoot, the agency's associate administrator, was there to accept the foundation's Award for Lifetime Achievement on behalf of NASA.
(A third award recipient was Jeff Bezos, the Blue Origin founder who received the Award for Innovation. Bezos did not attend a press briefing prior to the award ceremony but was at the event itself, discussing many of the same themes he's expressed in earlier discussions about his desire to see millions of people living and working in space.)
A lifetime achievement award led to the inevitable jokes about the agency's future. "I'm a little worried about a lifetime achievement because it does imply the end of a career," Lightfoot said in a discussion with reporters prior to the award ceremony. "I think NASA's got plenty to do going forward."
The foundation assured him, and the agency, that they were not bidding farewell to NASA. "I think our view is, an agency or a person who has done as much as they have in the last 58 years deserves an award like that, at least every 58 years," said foundation chairwoman Walda W. Roseman.
Quips about the future of the agency aside, Lightfoot acknowledged that, after nearly six decades, NASA could use a few upgrades. "How can we be more efficient, but be as effective as we are?" he asked. "We've been looking at a lot of places were maybe we had duplication, we had overlap, and it was costing us the ability to invest in the future."
Lightfoot noted that, in some cases, multiple NASA field centers were working on the same area, duplication NASA is gradually trying to reduce. "We had several centers playing in electric propulsion," he said as one example. The Glenn Research Center and the Jet Propulsion Laboratory were the clear leaders in those areas, he said, so NASA's plan is to eventually consolidate work in electric propulsion at other centers to Glenn and JPL. "Everybody else—not tomorrow, not next week—let's get a plan in place to get out of that work at other centers."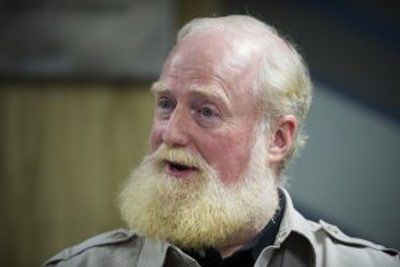 Bran Ferren discussing an "inflection point" approaching for commercial space. (credit: Clarke Foundation/Rod Lamkey)
As Lightfoot talked about creating efficiencies at NASA, Ferren talked about innovation coming from commercial space ventures that were not taking same approach as NASA and big aerospace companies. "That, for me, is what's exciting. We have now have different worlds colliding, and we have the intellectual horsepower of a whole set of communities who haven't thought about space before," he said. "I think there's nothing but good news there."
"I don't think that's a technological advancement. I think that's a business model advancement," Ferren said Blue Origin's and SpaceX's RLV work.
Ferren said he thought space was at the "dawn of an inflection point" driven by innovations coming out of commercial initiatives. Those efforts, he said, were not necessarily driven by technology advances but, instead, business decisions, including the development of reusable launch vehicles by companies like Blue Origin and SpaceX.
"I don't think that's a technological advancement. I think that's a business model advancement," he said of those companies' efforts. "Neither of the two key players in reusable launch are fundamentally moving the needle in new technology."
Ferren said that competition and innovation was important as NASA, over the decades of its achievements, had become risk averse. "I think that this new wave of competition, which is causing people to think about things different, is very healthy and constructive," he said.
Later in the discussion, he again brought up his concerns about risk aversion in the industry. "I think the space business, as many mature businesses, especially ones that are largely government subsidized, suffer from a cancer that is called risk aversion," he said. "It's paralyzing us and it's doing us in."
That risk aversion, he said, is understandable in large organizations of any kind, where taking risks is rarely rewarded if successful and often punished if it fails. "Space is a dangerous business. It always has been a dangerous business," he said. "When we portray it as anything else, it means that you're not paying attention. It's high risk, high reward."
Ferren suggested that many established organizations were increasingly unwilling to take on risk, and thus were missing out on the potential rewards. "It's time to rethink how we do these things," he said. "That doesn't happen when someone decrees it's time to do it. It happens because a whole bunch of things line up and smart organizations react to that environment, as NASA is now."
Lightfoot agreed that NASA was encouraging imagination and innovation, particularly in the early phases of projects. He cited as a particular example the agency's space technology efforts. "They really are doing more of this 'fail fast,' learn, and move on," he said, describing how the agency has encountered problems when they find that technologies are not as mature as expected when implemented into specific projects. "That's where I think we're learning."
Another example, he said, is NASA's Asteroid Redirect Mission (ARM). "It takes some risks," he said, in terms of the technologies the agency hopes it will demonstrate that can then be used on other aspects of its long-term Mars exploration plans. "For our culture, that's a little sporty."
"This, to us, is part of that change for us, in terms of the cultural perspective of, hey, it's okay to take some risk here," he said of ARM. "If we're going to take some risks, this is where we should take it from a mission perspective. There are other missions I don't want to take risks on. When people are involved, I'm not going to take those kinds of risks I would take on a mission like this."
"I rather think that were will be a whole series of perhaps non-obvious benefits to emerge from just this activity of this many smart and well-funded people with passion" moving into commercial space, Ferren said.
ARM, of course, faces an uncertain future based on skepticism it's received from members of Congress as well as the planetary science community. The incoming Trump administration hasn't specifically mentioned ARM—it finally named its first NASA transition team member the same day as the awards event—but Lightfoot was optimistic about its prospects. "I'm confident the next administration will make a decision, but I'm also confident that we've got a good story to show them in terms of why we think these technologies are important," he said.
While Ferren said he saw commercial space at an inflection point, he couldn't predict what ventures and markets, if any, would be successful. "Will it be a novelty that just disappears overnight and evaporates? It could be," he acknowledged.
"But," he continued, "I rather think that were will be a whole series of perhaps non-obvious benefits to emerge from just this activity of this many smart and well-funded people with passion moving into a business that, for better or for worse, has been a graying business and community for some number of years."
---