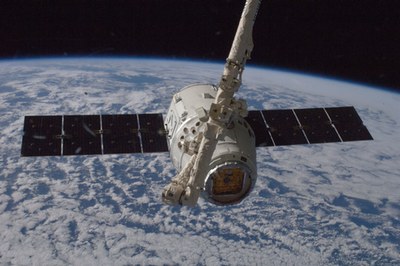 The success of SpaceX's Dragon missions to the ISS has been a major step in the eyes of some of reducing the skepticism about commercial spaceflight in general. (credit: NASA)
Fading skepticism of commercial spaceflight?
by Jeff Foust

Monday, October 22, 2012
For many years, an entrepreneurs and enthusiasts promised a bright future for commercial spaceflight, both orbital and suborbital, there's been a significant amount of healthy—and, perhaps, unhealthy as well—skepticism about the industry. People noted the failed promises of past commercial space efforts, slipped schedules, unproven technologies and business cases, and so on, and wondered if the new crop of companies promising low-cost access to space for applications from space tourism to International Space Station resupply could really carry out their plans.
"It's truly a seminal moment, I think, for commercial spaceflight, and it really helped change the way people perceive us, both within the industry and outside of it," said Lopez-Alegria of the SpaceX missions.
That skepticism was, in many cases, both understandable and even warranted, given that many NewSpace companies struggled to deliver on their promises. For example, eight years ago this month, SpaceShipOne won the $10-million Ansari X PRIZE, for example, and appeared to usher in a new era of suborbital spaceflight. Yet the prize-winning flight remains the last commercial suborbital human spaceflight to date. However, as companies start to finally deliver on their promises, or at least offer concrete evidence of doing, some of that past skepticism of commercial spaceflight shows signs of fading away.
Recent and upcoming achievements
One of the biggest milestones that has reshaped perceptions of the emerging commercial spaceflight industry has been the successful flights this year by SpaceX, sending a Dragon cargo spacecraft to the ISS on a demonstration mission in May and, earlier this month, the first operational cargo flight to the station (see "Commercial spaceflight gets down to business", The Space Review, October 8, 2012). Those flights have quieted at least some of the skeptics of company's ability to perform those missions, skepticism that had been fueled by significant delays from the company's original plans for performing those missions.
"It's truly a seminal moment, I think, for commercial spaceflight, and it really helped change the way people perceive us, both within the industry and outside of it," said Michael Lopez-Alegria, a former NASA astronaut who is now president of the Commercial Spaceflight Federation (CSF), of the SpaceX missions. He was speaking last week at the International Symposium for Personal and Commercial Spaceflight (ISPCS) in Las Cruces, New Mexico, a conference that gathered several hundred people to discuss the current state and future plans of commercial spaceflight efforts.
That most recent Dragon mission, still in progress—the spacecraft will remain berthed to the station until late this month, when it will return cargo to Earth—was not without its problems, most notably the failure of one of the Falcon 9 rocket's nine first stage engines. Speaking at ISPCS, Garrett Reisman, commercial crew project manager at SpaceX, said the engine was shut down after experiencing low chamber pressure. "That was a very serious failure, and we're taking it very seriously," he said. That anomaly is under investigation, he added, "and I'm confident that we're going to get to the root cause and have corrective measures."
The other company involved in commercial cargo transportation to the ISS, Orbital Sciences, is also showing signs of progress towards its first missions of its Antares rocket and Cygnus spacecraft. Late last month, Orbital took possession of the new launch facility for Antares at the Mid-Atlantic Regional Spaceport (MARS) at Wallops Island, Virginia, a long-delayed milestone due to difficulties in completing the launch pad. Orbital has rolled out an Antares first stage to the pad for tests, including an upcoming static fire test. The inaugural Antares launch, carrying a demonstration payload, is planned for late this year, although company officials said last week that the following mission, one that will send a Cygnus spacecraft to the ISS, had been pushed back to the spring of 2013.
"We are on track, we are on schedule, we are performing," said Boeing's Krone of its commercial crew program.
In addition to its commercial cargo efforts, SpaceX is working on commercial crew development in competition with two other companies, Boeing and Sierra Nevada Corporation. The three are starting work on the latest round of the NASA's overall commercial crew effort, the Commercial Crew Integrated Capability (CCiCap) awards made in August (see "Commercial crew's winners and losers", The Space Review, August 6, 2012).
"We are on track, we are on schedule, we are performing, as is our industrial team," said Roger Krone, president of Network and Space Systems at Boeing, in a talk at ISPCS. He said the company was on track to be able to begin crewed flights using its CST-100 spacecraft in 2016.
Mark Sirangelo, head of Sierra Nevada's space systems division, said the company was starting work on its second prototype Dream Chaser spaceplane and would start glide tests of the vehicle in the next couple of months. "My progress is marked by going out the back door to the assembly bay and actually touching the hardware," he said.
On the suborbital side of the commercial spaceflight industry, the long gap in crewed spaceflights since the final SpaceShipOne flight may finally be approaching its end. Last week Virgin Galactic released images showing the main oxidizer tank being installed in SpaceShipTwo, a key milestone towards the beginning of powered test flights. The tank is a major element of the spacecraft's hybrid propulsion system, which uses nitrous oxide as a liquid oxidizer along with a solid fuel.
"[W]e're leaving no stone unturned as we approach the first supersonic, rocket-powered flights of SpaceShipTwo," wrote Sir Richard Branson in a blog post about the milestone on the corporate Virgin website. "Our amazing engineers and pilots are preparing right now for the first powered spaceship flight, which should be followed with a fairly quick build up to Virgin's first proper step across the final frontier!"
Branson didn't indicate exactly when those initial flights may begin, but in a talk last month at the AIAA Space 2012 conference in Pasadena, California, Steve Isakowitz, executive vice president and chief technology officer of Virgin Galactic, said the company had set an "aggressive" goal of an initial powered flight by the end of the year. That, however, he added that schedule would be paced on how things were coming together.
Another suborbital vehicle developer also marked an achievement last week. At ISPCS, XCOR COO Andrew Nelson announced that the company had completed another major test just Wednesday: firing the liquid oxygen and kerosene engines while mounted in a "flight-weight fuselage" with "real" pumps. The engines were "spewing out fire at our test site in Mojave," he said. "It was an exciting day for XCOR." Video of the engine test, he said, should be released in the next week.
XCOR had previously indicated they had a goal to start low-level ("air under the gear") flight tests, part of a larger series of incremental tests of the Lynx, by late this year. Those flights appear to have slipped into early next year, based on Nelson's comments at ISPCS. "We are progressing quickly on building and fielding the Lynx and flying it in the new year," he said.
Dickman offered a blunt assessment of the achievement of the recent Dragon missions to the ISS: "Doubters, go home."
Even mysterious Blue Origin has been announcing some achievements in the development of suborbital and orbital vehicles. On Monday the company announced it had carried out a successful test last week of an escape motor system designed to safely carry a crew capsule away from its launch vehicle. The system is signed for use on its New Shepard suborbital vehicle but will also "inform the design of the escape system for its orbital Space Vehicle," the company noted in a statement.
"We're focused on delivering safe, affordable human spaceflight," said Erika Wagner, business development manager at Blue Origin, at ISPCS. The company has been working "relentlessly" towards that goal since 2000, she said. "Slowly but surely, we're moving from low-altitude test flights" to full-fledged suborbital and orbital systems, without giving any specific timelines for the latter systems' development.
From disdain to belief
The recent accomplishments of the industry, in particular SpaceX's flights to the ISS but also including the milestones by other orbital and suborbital companies, are reshaping perceptions about the industry. "It's not an exaggeration to say that 2012 has really been an inflection point," said Lopez-Alegria. "I really think there is a sea change going on with what's happened in the industry and the perceptions from the outside world."
"I couldn't be more excited," said Krone. He said he expects that, in ten years' time, people will look back at this month's Dragon flight to the ISS, as well as Orbital's upcoming Cygnus mission there, "as really the first true commercial spaceflight missions, then followed by many, many more—dozens and then hundreds and then thousands—that actually created a viable, sustainable commercial spaceflight industry."
Robert Dickman, the retiring executive director of the American Institute of Aeronautics and Astronautics (AIAA), said in an ISPCS speech that he believed the achievements of various companies had altered perceptions of the capabilities of the broader commercial spaceflight industry. "As recently as two years ago, many naysayers were very vocal, doubting than any commercial firm would demonstrate the necessary reliability and safety to carry astronauts for many years, perhaps as long as the entire decade," he said. "Not so much any more, thanks in large part to the Dragon mission last May and the one that launched last week."
Elsewhere in his ISPCS address, he gave a blunter assessment of the achievement of the recent Dragon missions to the ISS: "Doubters, go home."
"I was somewhere between a skeptic and having outright disdain for the idea of commercial space," said Lopez-Alegria, "and now I'm sort of a card-carrying, koolaid-pouring believer, and I think that reflects what's going on at large."
Dickman also questioned the concerns raised by skeptics that there isn't a sufficiently large market for commercial spaceflight beyond NASA's own needs. "The American public, the best that I can tell, doesn't care what the naysayers say. In fact, they're getting excited," he said. He noted, as evidence, the growing mainstream acceptance of space tourism in the media, from articles in the travel (rather than science) sections of newspapers to Branson's appearance in a Nike commercial featuring basketball star Kobe Bryant.
"The American public is seeing a different face on human spaceflight," Dickman said. "It's not the big government agency that made its name doing things that had never been done before," he explained, "it's highly successful entrepreneurial businessmen who promise to launch them—real people—into space."
Lopez-Alegria described himself as someone who had already made the transition from commercial spaceflight skeptic to supporter. He was introduced to it six years ago, when he flew to the ISS along with space tourist Anousheh Ansari. "My evolution in the last half-dozen years or so has mirrored what has gone on in industry," he said. "I was somewhere between a skeptic and having outright disdain for the idea of commercial space, and now I'm sort of a card-carrying, koolaid-pouring believer, and I think that reflects what's going on at large."
Certainly the skepticism about commercial spaceflight will persist in some quarters for perhaps years to come, given the long road ahead facing both suborbital and orbital vehicle operators. But there are signs that successful flights and other demonstrations can turn skeptics into believers.
---