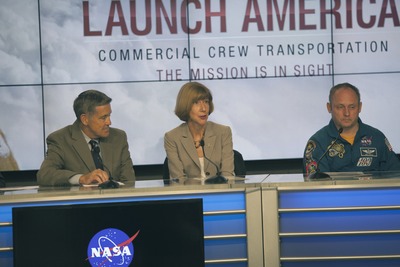 NASA commercial crew program manager Kathy Lueders discusses the latest commercial crew contracts in a press conference, flanked by KSC director Bob Cabana (left) and astronaut Mike Fincke. (credit: NASA/KSC)
Commercial crew and commercial engines
by Jeff Foust

Monday, September 22, 2014
For the last several weeks, the space community had been playing a parlor game of sorts: guessing both who would win contracts for the next round of NASA's commercial crew program, and when NASA would make that announcement. Three companies—Boeing, Sierra Nevada Corporation (SNC), and SpaceX—were widely acknowledged to be competing for the contracts, but NASA would issue no more than two contracts, and maybe only one. NASA officials, including administrator Charles Bolden, said on many occasions that the award would be made some time in August or September, but was never more specific.
"This wasn't an easy choice, but it's the best choice for NASA and the nation," Bolden said at the announcement
As is typically the case, speculation rapidly filled the vacuum created by the absence of information. People traded rumors involving all the companies and their varying prospects online and in person, while guessing when NASA would make the announcement, or wondering if a perceived delay in that announcement meant there was some kind of problem. (At one Capitol Hill event in early September, an executive with one of the three competing companies asked me when the awards would be announced. I gave him the only answer I could: a shrug of the shoulders.)
Finally, NASA announced the winners of the Commercial Crew Transportation Capability (CCtCap) contracts on Tuesday. In retrospect, the two winners, Boeing and SpaceX, are not that surprising to many. Nonetheless, the announcements left many open questions about the program and the winning and losing companies. And those who really wanted a surprise, albeit not about commercial crew, only needed to wait one day.
CCtCap announcement
Another of the questions about the CCtCap announcement was how much advance notice there would be for the announcement. In August 2012, NASA sent out a media advisory on a Wednesday that the awards for the previous commercial crew phase would be announced on a Friday morning (see "Commercial crew's winners and losers", The Space Review, August 6, 2012). However, those awards were made as Space Act Agreements rather than the more formal contracts CCtCap was using, with different guidelines regarding their announcement.
NASA didn't formally acknowledge a CCtCap announcement was pending until a press release Tuesday morning, stating it would hold a press conference at the Kennedy Space Center at 4 pm Eastern that day. However, rumors had already been circulating since late Monday that an announcement was imminent, with Boeing and SpaceX as the likely winners.
Thus, the formal announcement at KSC was a bit anticlimactic. Bolden and other NASA officials announced that Boeing and SpaceX had won the CCtCap contracts. Boeing's contract was valued at $4.2 billion, and SpaceX's at $2.6 billion. The two companies were tasked to continue development of vehicles—Boeing's CST-100 and SpaceX's Dragon V2—that would be ready to fly astronauts to the ISS as soon as 2017.
The CCtCap contracts will require the two companies to complete a series of five reviews, Kathy Lueders, commercial crew program manager, explained at the briefing and a later teleconference with reporters. Those reviews start with a certification baseline review and culminate in a final certification review, at which point NASA will certify the vehicles as safe for routine transportation of NASA astronauts to and from the ISS. The contracts require at least one test flight to the ISS prior to completing certification; that flight will include one or more NASA astronauts along with crewmembers from the company.
The CCtCap contracts cover more than just the development of the vehicles. Each company, assuming they successfully certify their vehicles, will perform at least two, and as many as six, post-certification missions to the ISS. The contract values announced last week include the value of the six flights, but NASA did not break out the value of those post-certification missions versus development costs.
"This wasn't an easy choice, but it's the best choice for NASA and the nation," Bolden said at the announcement. "We received numerous proposals from companies throughout the aerospace industry: highly-qualified American companies united in their desire to return human spaceflight launches to US soil."
Bolden's comment was about as detailed as NASA got at the press conference and subsequent events on the source selection process. Officials declined to offer details on why it picked Boeing and SpaceX, the details of their proposals, or even the number of proposals the agency received. Both winning and losing companies had not been formally debriefed by the time of the announcement, and NASA said it would provide additional details, including the official source selection statement, at a later but undefined date.
"Both contracts have the same requirement set and the companies proposed the value in which they were able to do the work, and the government accepted that," despite the different values, Lueders said.
The disparity in contract values between Boeing and SpaceX initially raised speculation that NASA was, as rumored earlier in the year, making "one and a half" contract awards: a full-sized contract for one company and a smaller award to a second company to allow them to make limited progress. NASA had done something similar in the previous phase of the commercial crew program, called Commercial Crew Integrated Capability (CCiCap), giving larger awards to Boeing and SpaceX and a smaller one to Sierra Nevada.
However, NASA said the two companies have identical requirements. "Both Boeing and SpaceX proposed to the same set of requirements, so NASA awarded the contracts based on their proposals," Lueders said at the press conference.
"Both contracts have the same requirement set and the companies proposed the value in which they were able to do the work, and the government accepted that," she reiterated in the later media telecon.
When pressed for why Boeing's contract has a total value $1.6 billion more than SpaceX's, Lueders offered no additional details. "I'm not going to be to talk too much about the content of the proposals or the contracts at this stage," she said.
Both winning companies were happy with their awards, at least in public. "Boeing has been part of every American human space flight program, and we're honored that NASA has chosen us to continue that legacy," John Elbon, Boeing vice president and general manager of its space exploration unit, said in a press release. The company touted the fact that it was the first, and so far only, company to complete all the milestones of its CCiCap award, including completion of a critical design review of the CST-100.
"SpaceX is deeply honored by the trust NASA has placed in us," SpaceX CEO Elon Musk said in a statement released by the company. "We welcome today's decision and the mission it advances with gratitude and seriousness of purpose. It is a vital step in a journey that will ultimately take us to the stars and make humanity a multi-planet species."
The announcement was a setback for Sierra Nevada, the third CCiCap company, which had hoped to continue development of Dream Chaser under the CCtCap program. "SNC is planning to have a debrief session with NASA soon to obtain the source selection statement and decision rationale," the company said in a statement. After that, the company "will elaborate further on its future options" regarding both the CCtCap award and Dream Chaser itself. That language appeared to leave open the possibility that the company could protest the award.
SNC officials have indicated that they had backup plans to continue work on Dream Chaser for missions other that ISS crew transportation should they lose the CCtCap award. Over the last year, the company has signed up a number of partners, including the European Space Agency, the German space agency DLR, and the Japanese space agency JAXA, regarding Dream Chaser development, although those partnerships have not—so far—involved significant amounts of money.
NASA left open the possibility of keeping Sierra Nevada in the commercial crew program through an unfunded extension of its current CCiCap award, in a manner similar to Blue Origin's unfunded extension of its earlier Commercial Crew Development phase 2 award. "I want to acknowledge the hard work, dedication, and the passion for human spaceflight that Sierra Nevada has exhibited," said Phil McAlister, director of commercial spaceflight at NASA headquarters, in a presentation at a meeting of the FAA's Commercial Space Transportation Committee (COMSTAC) the day after the announcement. "We hope to continue that partnership."
Blue Origin founder Jeff Bezos (left) and ULA president and CEO Tory Bruno discuss the BE-4 rocket engine their companies are partnering to develop. (credit: ULA)
An announcement out of the Blue
But even as the CCtCap announcement was unfolding, another and more surprising development was emerging in the commercial space industry. United Launch Alliance (ULA) and Blue Origin announced late Tuesday a press conference in Washington on Wednesday for an unspecified announcement.
"The BE-4 engine is a remarkable machine," said Bezos. "It's as simple as it can be while still being high performing and highly reliable."
That announcement was a partnership on a new rocket engine. "We have selected Blue Origin and Jeff Bezos to be our partners going forward with their very innovative and creative rocket engine technology for our future family of lift," ULA president and CEO Tory Bruno said at the press conference.
ULA will support Blue Origin's development of the BE-4 engine. The engine, running on liquid oxygen and methane propellants, will produce 2.45 million newtons (550,000 pounds-force) of thrust, and is designed to be reusable. "The BE-4 engine is a remarkable machine," said Bezos, the founder and principal funder of Blue Origin. "It's as simple as it can be while still being high performing and highly reliable."
The BE-4 is a departure from the BE-3, the company's previous engine that it developed as part of its NASA commercial crew efforts (see "Blue Origin takes another small step towards human spaceflight," The Space Review, December 9, 2013). That engine uses liquid oxygen and liquid hydrogen and produces only about a fifth of the thrust planned for the BE-4. Blue Origin hasn't abandoned the BE-3, though: Bezos noted in passing that "flight tests" of the engine are expected to begin soon, without specifying when or what kind of tests.
Blue Origin has been working on the BE-4 for three years, Bezos revealed. The engine will be ready for full-scale tests in 2016 and first flight in 2019. Just what vehicle will use it, though, isn't clear. Bruno said vehicle design studies were underway on how to use the BE-4; those studies are due to be completed by the end of the year.
However, the BE-4 is being touted as a replacement of sorts for the Russian-manufactured RD-180 engine used by the Atlas 5 today. "The BE-4 is not a one-for-one replacement for the RD-180," Bruno noted. He said that two BE-4 engines would be used on the "baseline Atlas vehicle" in place of the RD-180. "This is an opportunity to jump into the 21st century with modern technologies so that we can achieve more performance at a lower cost."
The announcement comes after months of concern about the availability of the RD-180 engine, given the tense state of US-Russian relations. Threats by Russian officials to cutoff exports of the RD-180—which Russia has yet to carry out—sparked efforts both in the government and by ULA to develop a replacement.
In June, ULA announced it had awarded multiple contracts with American companies to study various concepts for liquid oxygen/hydrocarbon rocket engines that could replace the RD-180. Bruno said that those contracts included Blue Origin.
"We selected Blue for a couple of reasons," he said. "First, they're way ahead in terms of this three years of great development. Also, they have this really innovative technology" that set them apart from other, unnamed companies. Bruno didn't disclose who else received engine study contracts other than that ULA "cast a pretty wide net."
At the same time, members of Congress were proposing putting funding into the 2015 defense spending bill to start work on a similar engine, and last month the Air Force issued a request for information to industry regarding engine concepts that could replace the RD-180, without stating so explicitly.
At the press conference, Bruno dodged questions about whether the companies would seek funding from Air Force to support development of the BE-4. "We have been in contact with all of our stakeholders to let them know what we're up to, and the feedback has been overwhelmingly positive," Bruno said. Bezos did note that the BE-4 was "fully funded," suggesting that any government funding was not needed to complete the engine.
"We selected Blue for a couple of reasons," Bruno said. "First, they're way ahead in terms of this three years of great development. Also, they have this really innovative technology."
One catch in any government funding for the BE-4 is that provisions in defense authorization and appropriations bills that mention the new engine program include a requirement that the engine be available to any US company. "Some people want to build different engines, but we want an engine that everyone can use," said Rep. C.A. "Dutch" Ruppersberger (D-MD), the ranking member of the House intelligence committee, at the COMSTAC meeting. "So if you have an engine, it's going to be your engine, and that will be your monopoly ten years from now."
Bezos said that Blue Origin also planned to use the engine on its own planned launch system. "The BE-4 engine we're talking about here is also going to power Blue Origin's orbital vehicle further in the future," he said. A list of frequently asked questions released by ULA and Blue Origin notes that once the BE-4 is complete, "Blue will make the engine commercially available to other companies."
The partnership—neither company is taking an equity stake in the other—does offer the two companies a way to take on a common rival: SpaceX. SpaceX sued the Air Force earlier this year over a "block buy" launch contract the service awarded to ULA, while SpaceX and Blue Origin vied for control last year of Launch Complex 39A at KSC, a battle won by SpaceX.
SpaceX, though, is also pursuing larger and reusable launch vehicles in addition to its commercial crew work, and is developing large methane rocket engines of its own. The ULA-Blue Origin partnership may be less about developing a replacement to the RD-180 than keeping up with an aggressive competitor. For those two companies, partnership may be essential to their long-term propsects.
"This is my partner," Bruno said of Bezos, "and I am expecting Jeff to succeed."
---