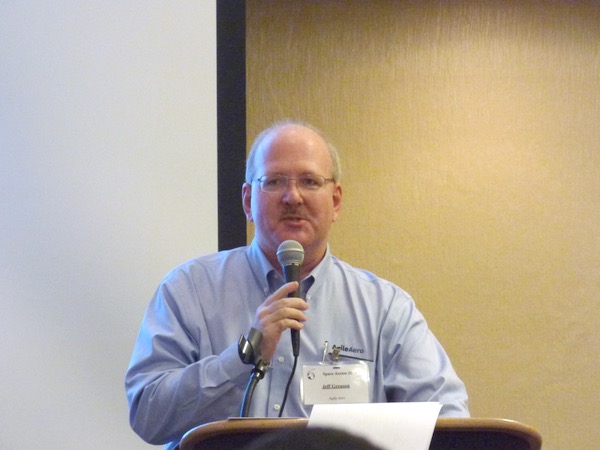 Jeff Greason discusses his vision for Agile Aero during an April 9 presentation at the Space Access '16 conference in Phoenix. (credit: J. Foust)
A new chapter for a commercial space pioneer
by Jeff Foust

Monday, May 2, 2016
More than 15 years ago, a group of former employees of Rotary Rocket Company, led by Jeff Greason, established XCOR Aerospace. The company soon made a name for itself as a developer of rocket engines, rocket-powered aircraft, and a suborbital vehicle for tourism and research, Lynx, that remains in progress. Throughout that time, Greason was the public face of the company.
"Everybody knows today that the space transportation part of the problem is still unaddressable because developing new vehicles is ridiculously expensive and very lengthy," Greason said.
That, though, has changed in the last year. Last March, the company announced it had hired a new CEO, Jay Gibson, with Greason shifting to a role as chief technology officer. In November, Greason left the company along with two of the other co-founders, Dan Delong and Aleta Jackson, establishing a new company called Agile Aero. And, in late March, XCOR announced changes to its board of directors, with Greason among those leaving the board.
"So what am I doing next?" asked Greason at last month's Space Access '16 conference in Phoenix. His presentation offered some new insights on what he will, and won't, be doing at Agile Aero.
Greason argued that what is holding back development of launch systems is speed, or lack thereof. "Everybody knows today that the space transportation part of the problem is still unaddressable because developing new vehicles is ridiculously expensive and very lengthy," he said.
He contrasted that with the rapid growth in small satellites, including why companies developing them have attracted hundreds of millions of dollars of investment from venture capital firms. "It isn't really because they're small, and it isn't really because they're cheap. It's really because they're fast," he said. Fast enough, he concluded, to fit within the time horizons of venture capitalists.
Smallsat companies can develop spacecraft that can succeed or fail far more rapidly than launch systems, and thus be more attractive to investment. "The people outside the industry get it much better than the people inside the industry," he said. "It's much more about a different business model than it is about the particular technologies."
That business model that Greason is pursuing at Agile Aero involves the rapid development of high-speed vehicles. "Agile is going to be a service provider, a company that provides the service of rapidly designing, building, and flying a vehicle for you, for your market, whatever that might be," he said. "I'm trying to figure out a way to do for vehicles just what has happened in the revolution for small satellites."
Agile's approach to speed up vehicle development is to follow the model for developing subsonic aircraft. Today, Greason noted, there are software tools widely available for designing such airplanes, and it's a common design project for undergraduate students. Such tools, though, are not available for supersonic aircraft, because of the belief that the design of such vehicles are so tightly coupled that they are too complex for simple models.
Agile plans to a take a different approach. Greason showed a design for a vehicle that featured a variety of angled surfaces meeting at sharp edges. The performance of that vehicle is straightforward to model, he said, although it has reduced lift-over-drag in subsonic flight. "But the question I now ask is, 'So what? Is lift-over-drag the most important parameter for every possible vehicle?'" he asked. "No."
Similar concepts have been proposed for years, including one called the Wainfan Facetmobile, designed by aerodynamicist Barnaby Wainfan and consisting of a series of flat surfaces that, together, comprise a lifting body. That approach, Greason said, provides plenty of internal volume for both propellant tanks and payload, eliminating the tight coupling between those components and the airframe. That design is also very rigid.
Agile has developed software now that can develop supersonic airframes using this approach. "We can type in a handful of numbers and it spits the airframe design out for us," Greason said. "It's a capability common for subsonic aircraft but I think is new in supersonic and hypersonic vehicles." The company plans to take a similar approach to other subsystems, from controls to landing gear.
Greason said that Agile would take advantage of modern manufacturing techniques, like 3-D printing, but noted that innovation was secondary to the computer design tools. "Even if you had Star Trek replicators, you have draw the damn thing before you can build it," he said.
"I have learned a few things about what I wish I could do differently this time around," Greason said of his experience developing Lynx.
Agile Aero is currently building up its roster of potential clients, as well as its workforce and advisers. Greason announced at the conference that Stephen Fleming, an early investor in XCOR who, like Greason, left the board earlier this year, was joining Agile's board. "We've got most of the band back together again," he said.
Agile is talking with several potential customers for its services, from a company with an engine who "wants us to wrap a vehicle around" to another interested in a reentry vehicle with no propulsion. While not suited for long-range subsonic vehicles, Greason said the design approach might for some other subsonic vehicles, like UAVs.
At the conference, one person raised the question of Agile's credibility about rapid prototyping of high-speed vehicles, given the lengthy delays XCOR had on Lynx under Greason's leadership. "I have learned a few things about what I wish I could do differently this time around," he responded. "So far, I have clients who are coming to me, and they're interested in my approach and how we're going to tackle it."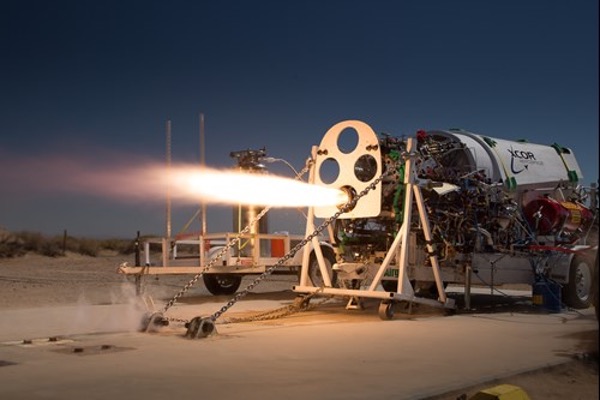 XCOR Aerospace has discussed progress it's making on the engines for the Lynx, but elements of the vehicle itself are still proving troublesome. (credit: XCOR Aerospace)
XCOR's status
But what about XCOR, now that most of its co-founders are gone? Gibson was scheduled to speak at Space Access, but cancelled due to flight problems. Doug Jones, XCOR's chief test engineer and the one co-founder still at the company, later filled in for Gibson to provide a brief update on the Lynx development.
"We continue to develop the Lynx vehicle itself" as well as its engine, Jones said. He showed a photo of the Lynx Mark 1 prototype vehicle under assembly, featuring the fuselage, cockpit, nose assembly, and wing strakes.
The vehicle's wings, though, have not yet been completed. At last year's Space Access, Greason said that work on the carbon composite wings, by an unnamed vendor, was going slowly because of the difficulty in laying up the sections and the low tolerance for defects (see "Making good on the promise of suborbital spaceflight", The Space Review, May 11, 2015).
The Lynx wing structure continues to be an issue for XCOR. "That's part of the money problem," Jones said, without elaborating on the apparent funding issue. "We're moving along, but they're in the works."
"Every project from Cheops on has taken longer and cost more than the original projection, and Lynx hasn't been any exception," Jones said.
Jones added that he's been involved in propulsion work, and not the airframe, and thus wasn't as familiar with the airframe's development. That propulsion work includes work on both the Lynx's engines as well as an upper stage engine it is building for United Launch Alliance that could be used on an upper stage ULA plans to develop for its Vulcan launch vehicle.
But when will Lynx itself finally fly? "Light under the gear all depends on how our schedule moves forward," he said. "Honestly, I'm not going to say six months or nine months or twelve months. I just don't know at this point because there are too many unponderables in the way. We move as fast as we can move."
"Every project from Cheops on has taken longer and cost more than the original projection, and Lynx hasn't been any exception," he added. The future of low-cost space access, particularly as envisioned by Agile Aero, might require some exceptions to that rule.
---