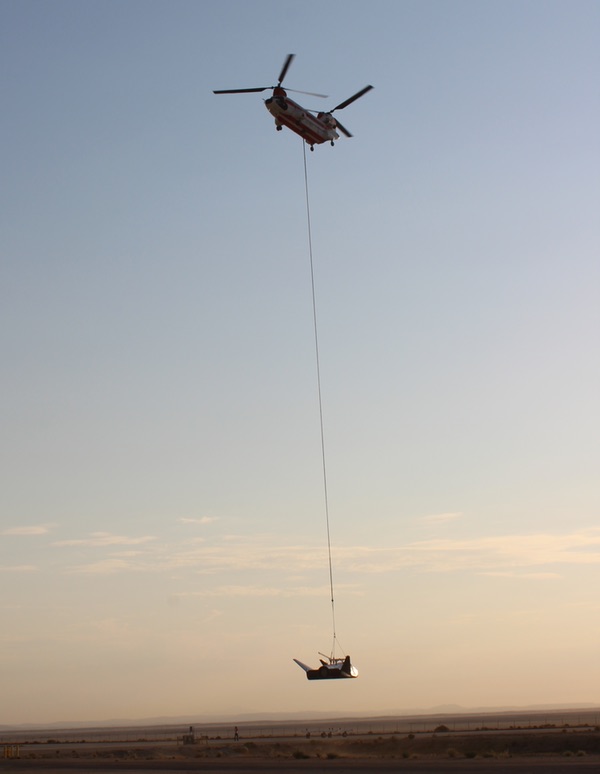 A helicopter lifts Sierra Nevada Corporation's Dream Chaser into the air for a captive carry test flight August 30 at Edwards Air Force Base in California. (credit: J. Foust)
Learning to fly again
by Jeff Foust

Tuesday, September 5, 2017
The high desert, at sunrise, is peaceful. The temperature is comfortably cool and the air is calm, a far cry from the heat that will soon bake the desert floor. A good time to take in the stark beauty of the landscape.
"It went as good as we could possibly expect," Lindsey said.
It's also a good time for a flight test. As the Sun edged higher into the sky, the twin rotors of a Columbia 234UT helicopter—the civilian version of the military's Chinook—started up. The helicopter took off, trailing a cable that, on the other end, was connected to the engineering test article of Sierra Nevada Corporation's (SNC's) Dream Chaser vehicle. The helicopter hovered as the cable became taut to perform some final tests, and then flew higher, lifting the Dream Chaser off its cradle and into the air. For the first time in nearly four years, Dream Chaser was airborne.
For more than 90 minutes, the helicopter carried Dream Chaser in the skies above Edwards Air Force Base in California. To the untrained observer it looked like the vehicles were simply flying in circles, but SNC used the flight to test out various Dream Chaser systems, all to the company's satisfaction.
"It went as good as we could possibly expect," Steve Lindsey, vice president of space exploration systems at SNC, told reporters shortly after the helicopter set Dream Chaser back down on the ground near its hangar. "We went through every single flight test objective."
Part of that was testing the Dream Chaser itself, such as new avionics identical to that it plans to use on the orbital vehicle. "All the avionics worked, exactly as expected," he said. "We obviously have to look at the data—we got reams of data we have to go look at—but from what we saw real-time, everything was working exactly as expected."
The flight was also a test of the helicopter, a different model than that used on the earlier series of flight tests of the vehicle four years ago. "A big part of it was learning how to work with the helicopter, and for the helicopter pilots, it was a learning curve for them, learning how to get our vehicle into the drop box," that location in airspace where the vehicle would be released for a future glide test. "They did a great job."
The flight test offered a sense of déjà vu: in 2013, SNC was performing a similar set of tests at Edwards, including captive carry flights. Those tests culminated in a glide flight, where Dream Chaser was released from the helicopter to glide to a runway landing. The company, and NASA, declared the flight a success, even though one of the vehicle's landing gears failed to deploy, causing the vehicle to skid off the runway after touchdown.
It's the same vehicle, repaired and upgraded, that is performing this series of test flights. Besides the upgraded avionics, Lindsey said a test boom used on the earlier flights has been replaced by a flush air data system to collect airspeed and altitude data. "You can't fly in from space with a boom because it'll just burn up," he said.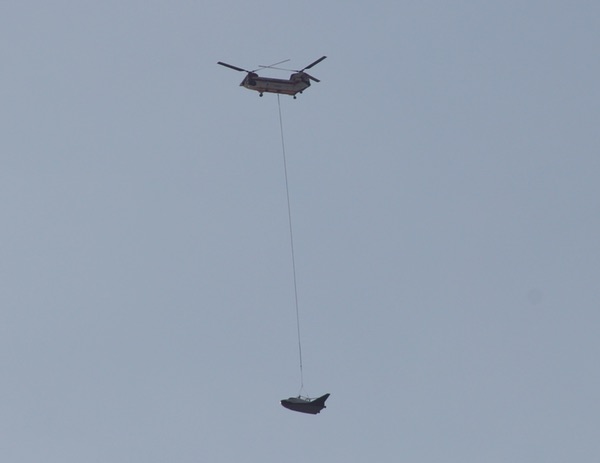 Dream Chaser and its helicopter in flight over Edwards Air Force Base. (credit: J. Foust)
The vehicle will also carry actual thermal protection system material on its nose skid for the glide flight. "When it touches down, we want to characterize what will happen to that tile," he said. "We know it's going to shear off, but we want to see if it will create any turnaround refurbishment issues."
SNC has been taking its time returning Dream Chaser to flight, and Lindsey said there was no rush for future flight tests: a second captive carry flight, likely in about a month, followed by a glide flight later in the year. "The team is not under schedule pressure," he said. "We obviously are motivated to get this done as soon as we can, but on the other hand, we're not going to do it until everything's right."
A lot has changed with the overall program, though, in the four years since those earlier flight tests. In 2013, SNC was in the running to offer Dream Chaser as a vehicle for crew transportation, having won a series of funded NASA Space Act Agreements, alongside Boeing and SpaceX, to support its development.
In September 2014, though, NASA picked Boeing's CST-100 (later named Starliner) and SpaceX's Dragon v2 (also called Crew Dragon) for contracts to complete development and testing, and for a series of missions to transport astronauts to and from the International Space Station (see "Commercial crew and commercial engines", The Space Review, September 22, 2014). SNC filed a protest with the Government Accountability Office (GAO), but in January 2015 the GAO concluded that NASA acted appropriately when it awarded the contracts to Boeing and SpaceX.
"We're going to go do cargo first, and do the best we can with cargo and prove out the vehicle, but our intent someday is to go back to crew as well," he said.
SNC then shifted direction. With the commercial crew avenue closed off, it sought instead to use a version of Dream Chaser for cargo. The Dream Chaser Cargo System is based on the same design as the crew vehicle, but with the addition of a cargo module attached to the back of the vehicle. Without the need for crew access, the vehicle could now fit inside a payload fairing as well.
SNC proposed this vehicle to NASA when it opened up bidding for a second round of Commercial Resupply Services cargo contracts for supplying the ISS. In January 2016, NASA announced it was awarding three contracts: Orbital ATK and SpaceX, the incumbents, received new awards for versions of their Cygnus and Dragon spacecraft, while SNC also got one for Dream Chaser.
For now, SNC is focused on developing that cargo version of Dream Chaser, which the new series of test flights will support. In July, SNC announced it had awarded a contract to United Launch Alliance for Atlas 5 launches of the first two Dream Chaser cargo missions, tentatively scheduled for 2020 and 2021. "We don't have an official launch date from NASA for the first cargo mission, but we're anticipating some time in 2020 for the first flight," Lindsey said.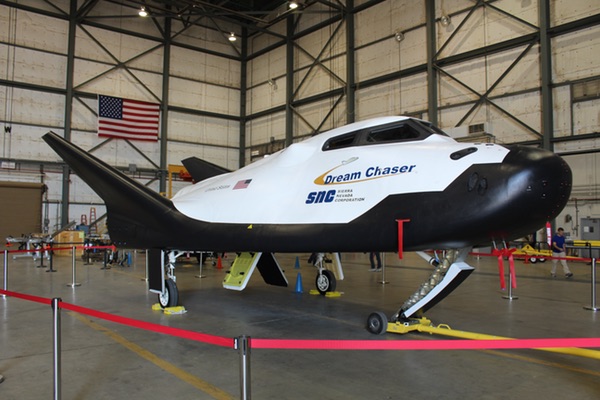 Dream Chaser back in tis hangar after a successful captive carry flight. (credit: J. Foust)
However, the company has not given up on a future crewed version of Dream Chaser. The upcoming glide flight is the last paid milestone in the company's Commercial Crew Integrated Capability award it received from NASA more than five years ago. However, Lindsey said the company recently agreed with NASA for a five-year unfunded extension of that Space Act Agreement to allow continued cooperation between NASA and the company, particularly to support a future crewed variant.
"We're going to be working with the commercial crew program through at least 2022," he said. "We have some unfunded milestones where NASA comes in and they look at our requirements, look at how we're developing our cargo vehicle, look at the path or the trace to the crewed vehicle, and help us out."
After the upcoming glide test, this Dream Chaser vehicle will go into "flyable storage," Lindsey said, suggesting it could be refurbished should the company go ahead with a crewed vehicle and need it for additional tests.
"We're going to go do cargo first, and do the best we can with cargo and prove out the vehicle, but our intent someday is to go back to crew as well," he said. "How and when is TBD."
---