This week in The Space Review…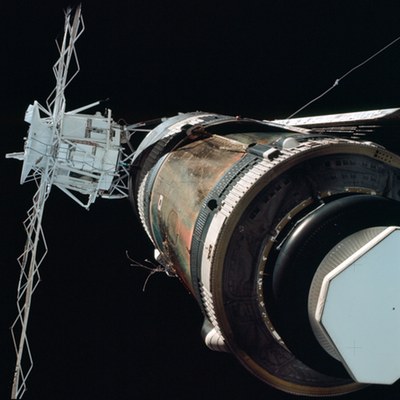 Forty years ago this month, NASA launched its Skylab space station, only to find the station was damaged during its ascent to orbit. Dwayne Day examines the little-known role played by a spy satellite to help NASA assess the damage to Skylab before launching a repair mission.
Monday, May 20, 2013
Last week a reaction wheel on NASA's Kepler spacecraft failed, putting the future of the extrasolar planet hunting spacecraft into jeopardy. Jeff Foust reports on efforts to rescue or repurpose Kepler, and why, even with the failure, the spacecraft's exoplanet discoveries will continue.
Monday, May 20, 2013
Science fiction has long offered a variety of visions of what the future of spaceflight might be like. Dwayne Day looks at three movies slated for release later this year that offer differing visions of humans in space.
Monday, May 20, 2013
Decades after his historic mission to the Moon, Apollo 11 astronaut Buzz Aldrin remains a tireless advocate for human spaceflight. Jeff Foust reviews a new book by Aldrin that provides his roadmap for how, although not necessarily why, to get humans to Mars by the 2030s.
Monday, May 20, 2013
Note: Because of the Memorial Day holiday, next week's issue will be published on Tuesday, May 28.
---
Previous articles:
Fifteen years ago today, a commercial communications satellite stranded in a transfer orbit flew around the Moon in a bid to make it to geosynchronous orbit. Rex Ridenoure provides a behind-the-scenes account of the development of that rescue scenario, marking the first—and, to date, only—commercial mission beyond GEO.
Monday, May 13, 2013
NASA has argued that its proposed asteroid initiative, including a mission to redirect an asteroid into lunar orbit to be visited by astronauts, is a key step towards human missions to Mars. Jeff Foust reports from a Mars conference last week where some saw that asteroid mission as more of a distraction.
Monday, May 13, 2013
Space has been an inspiration of sorts to some forms of electronic music, including the genre known today as "ambient." Dwayne Day looks at this intersection of space and music on display at a recent concert.
Monday, May 13, 2013
Some novels require a certain degree of suspension of disbelief by the reader to accept plot developments that otherwise might not seem credible. Jeff Foust reviews a novel about a human mission to the Moon that may take that need for suspending disbelief a little too far.
Monday, May 13, 2013
Last month NASA unveiled a 2014 budget proposal that is largely similar to its 2013 proposal, with the addition of a new asteroid initiative. Jeff Foust reports on the likely key issues, old and new, that will come up as Congress debates the budget in the coming months.
Monday, May 6, 2013
Most people recognize the historical significance of the Apollo landing sites and similar locations on the Moon, but there's little consensus on how to protect them from future explorers. Michael Listner examines some of the proposed ways to provide legal protection to these sites and offers an alternative approach.
Monday, May 6, 2013
The FX television series The Americans has included references to space-based missile defense systems. Dwayne Day discusses what this drama about deep cover KGB agents in America got wrong, and right, about these efforts.
Monday, May 6, 2013
Some recent developments have left some observers wondering if NASa and the US government are serious about export control reform and international collaboration. Christopher Stone cautions against jumping to those conclusions.
Monday, May 6, 2013
Various "insider's guides" promise to give you unique information on a wide variety of topics. Jeff Foust reviews a book that offers to do something similar for the galaxy we call home.
Monday, May 6, 2013
If rumors prove true, SpaceShipTwo will make its first, albeit brief, powered test flight today. Jeff Foust examines the state of development of both Virgin Galactic's vehicle and other major commercial suborbital efforts.
Monday, April 29, 2013
If an asteroid is heading towards Earth, what do you do to prevent a cataclysmic impact? Jeff Foust reports from a recent conference that while some advocate deflecting an asteroid with something as simple as a spacecraft, others advocate, in effect, blowing it to smithereens.
Monday, April 29, 2013
Satellites have traditionally required specialized, high-reliability electronics designed to withstand the harsh environment of space. Jeff Foust reviews a book that examines the history of these electronics' development, and the problems that arose when people tried to impose "radical" changes to a complex system.
Monday, April 29, 2013
The highlight of NASA's 2014 budget request is the beginning of an effort to bring an asteroid back to the vicinity of the Earth for study by astronauts. Jeff Foust examines the details of this proposal and some of the concerns and criticism expressed about a plan that, for many, sounds like science fiction.
Monday, April 22, 2013
On Sunday, Orbital Sciences Corporation successfully launched its Antares rocket on its inaugural mission, after two scrubs earlier in the week. Jeff Foust reports on the launch and its significance for Orbital, NASA, and others.
Monday, April 22, 2013
Commercial space startups today are offering everything from suborbital spaceflights to trips to the Moon and the resources of asteroids. Frank Stratford argues that the business cases for some of these companies, while promising, need changes to allow for more near-term revenue opportunities.
Monday, April 22, 2013
This week marks the 23rd anniversary of the launch of the Hubble Space Telescope, perhaps the world's most famous, and even beloved, observatory. Jeff Foust reviews a book that looks at the artistic and cultural significance of the colorful images that Hubble has provided over the years.
Monday, April 22, 2013
Within the last year a number of cutting-edge space projects have gotten their start through a new funding concept called crowdfunding. Jeff Foust examines the benefits and drawbacks of using crowdfunding to support space projects, and the prospects for true crowdsourced investment in space companies.
Monday, April 15, 2013
People have been waiting for decades for a human return to the Moon in the classic Apollo paradigm, without success. Alan Stern and Homer Hickam argue that it's time to embrace a commercial approach for human space exploration.
Monday, April 15, 2013
Two months ago, a meteor exploded high above the Russian city of Chelyabinsk, causing damage and injuring more than a thousand people. Jeff Foust reports on the latest insights into exactly what happened that day and its implications for looking for and understanding the threats posed by near Earth objects.
Monday, April 15, 2013
When the Soviet Union surprised America and the rest of the world with the launch of the first satellite, the Eisenhower Administration took the blame for allowing the US to be beat. Jeff Foust reviews a book that reexamines Eisenhower's legacy in a more positive light.
Monday, April 15, 2013
Next week marks the third anniversary of President Obama's speech calling for a human mission to an asteroid, but many people, including some within NASA, still have trouble accepting that goal. Jeff Foust reports on that perceived lack of enthusiasm and whether a new proposal to retrieve an asteroid could change people's minds.
Monday, April 8, 2013
NASA has been taking steps to promote commercial space development, but that is neither the only nor the highest agency priority. Three authors argue that a federally-chartered corporation modeled on the Tennessee Valley Authority could accelerate commercial space development in the US and worldwide.
Monday, April 8, 2013
Two of the biggest topics in astronomy today are the search for extrasolar planets and the composition of dark matter. Jeff Foust updates some recent reports on those topics with news on new exoplanet missions and results from an experiment on the ISS.
Monday, April 8, 2013
Compressing the entire universe into a single book can be a difficult task. Jeff Foust reviews a recent book that offers the reader a whirlwind tour of the cosmos, from the Earth to distant galaxies.
Monday, April 8, 2013
Several states are completing to host a planned commercial launch site for SpaceX, with Texas in the lead. Jeff Foust reports on that competition and growing interest by local and state economic development organizations to attract commercial space businesses.
Monday, April 1, 2013
A new documentary profiles several people with very strong beliefs in lunar settlement. Jeff Foust reviews the film and examines the challenges space advocates face in being taken seriously as they seek goals that, today, seem laughable to the public.
Monday, April 1, 2013
Continued expansion of humanity into the solar system will bring with it new legal issues. Babak Shakouri discusses some of those potential problems, from legal jurisdiction over multinational facilities to property rights, and how they could be addressed.
Monday, April 1, 2013
Human spaceflight is among the most difficult challenges we attempt, which means the rationale for doing so must be strong. Jeff Foust reviews a book that attempts to provide a historical and scientific basis for human spaceflight while also detailing the issues that make it so challenging.
Monday, April 1, 2013
The space community has debated various precursor missions for a human Mars expedition, including trips to the Moon and near Earth asteroids. Harley Thronson notes, however, that these proposals are in sharp contrast the Gemini program, a precursor to Apollo driven entirely by what was needed to support the ultimate goal of landing humans on the Moon.
Monday, March 25, 2013
Customers of commercial launches are expressing concerns about the reliability of some vehicles, while the US government is worried about the growing costs of launch. Jeff Foust reports on those issues and possible solutions, including a return to commercial service of a vehicle that primarily serves government users.
Monday, March 25, 2013
Recent events have raised awareness of, and interest in, near Earth objects and their resource potential. Greg Anderson discusses the roles banks can play to enable accessing those resources for use in space and on Earth.
Monday, March 25, 2013
The field of radio astronomy emerged after World War II as scientists turned technologies developed during the war towards the skies. Jeff Foust reviews a book how this field developed far more collaboratively than many other scientific endeavors.
Monday, March 25, 2013
NASA took the lessons from the Columbia accident ten years ago and used them to help safely fly out the remaining shuttle missions, but what about future spacecraft? Jeff Foust reports on the views about safety of future human spaceflight vehicles, particularly those being developed commercially, discussed at a recent symposium.
Monday, March 18, 2013
Determining just how advanced North Korea's space and missile technologies are can be difficult, even when a mission like last December's launch appears successful. James Oberg estimates that country's progress, and future challenges, based on those reported successes and apparent failures.
Monday, March 18, 2013
The launch last month of an Indo-French ocean science satellite on an Indian rocket is just the latest sign of cooperation between the two nations in space. Ajey Lele discusses the strategic implications of Indian and French space cooperation.
Monday, March 18, 2013
Later this week ESA will release data from its Planck mission, offering astronomers their best view yet of the cosmic microwave background. Jeff Foust examines what makes astronomers so excited about Planck's data.
Monday, March 18, 2013
Last month's Russian meteor was a reminder of the threat that near Earth objects pose, while recent commercial developments also highlight the resource potential of NEOs and other solar system bodies. Three authors make the argument that the G20 nations should make space industrialization, and planetary protection, a priority.
Monday, March 18, 2013
During the Falklands War, the United States offered assistance, often covertly, to Great Britain. Dwayne Day reports on newly-declassified documents that reveal that this assistance included access to a newly-launched signals intelligence satellite.
Monday, March 11, 2013
Last week a forum in Washington looked back at the Columbia accident and the lessons learned from it. Mary Lynne Dittmar offers her perspective on the cathartic nature of the event and the insights it offered on the past and future of spaceflight.
Monday, March 11, 2013
Space launch can, by its nature, be very unforgiving to even the smallest changes. Wayne Eleazer recounts how, in several cases, seemingly innocuous, minor changes resulted in unfortunate outcomes for missions.
Monday, March 11, 2013
While dealing with space debris requires overcoming a number of technical obstacles, the political ones may be even greater. Michael Listner completes his assessment of the challenges of cleaning up space debris by offering a potential solution to some of the policy challenges associated with this effort.
Monday, March 11, 2013
As the science results from NASA's Mars rover Curiosity pour in, it's easy to forget that the instrument that make that science possible can be as challenging to develop as the spacecraft itself. Jeff Foust reviews a book by the principal investigator of one of Curiosity's instruments, who tells the inside story of the development of that instrument and work on other missions.
Monday, March 11, 2013
Last week, a new organization founded by a pioneering space tourist announced plans for a crewed Mars flyby mission to launch in 2018. Jeff Foust describes the background of the mission and the various challenges to turn this unique concept into an actual voyage.
Monday, March 4, 2013
Regulating the safety of the emerging commercial spaceflight industry poses challenges given the lack of experience and concerns about government overregulation. Three authors suggest that one approach is to take a page from the maritime industry and establish organizations that can perform a type of self-regulation.
Monday, March 4, 2013
China attracted the world's attention in 2007 with a test of a anti-satellite weapon that created thousands of pieces of debris. Dwayne Day reports on a recent forum that describes the challenges in knowing what China is doing today with ASATs, and why.
Monday, March 4, 2013
Civil space policy, in particular human spaceflight, was not an issue in last year's presidential election. Roger Handberg argues that space advocates must stop believing that the president restore the agency to the glory years of the 1960s but instead focus on what's needed to create a more sustainable program for the future.
Monday, March 4, 2013
In the final installment of his examination of a unique artifact included on a recently launched commercial satellite, Larry Klaes ponders just how long that artifact might last in Earth orbit, and the significance of its message.
Monday, March 4, 2013
The Russian meteor and separate asteroid flyby earlier this month reminded people of the threat near Earth objects pose to the Earth. Peter Garretson argues that this is an opportunity to developed a more detailed national policy about both the threat they pose and potential benefits these objects offer.
Monday, February 25, 2013
The International Space Station is transitioning from a a complex space construction project to an advanced research laboratory. Jeff Foust reports on the efforts to demonstrate what research the station is capable of performing, and near-term prospects for some major discoveries made there.
Monday, February 25, 2013
The question of whether the United States should cooperate with China in some manner in space activities is often a hot topic, with arguments for and against involving international leadership, national security, and other issues. Christopher Stone says some strategic context, particularly regarding how China is advancing its technological capabilities in general, is needed to properly consider this issue.
Monday, February 25, 2013
In the second part of his look at an unusual artifact installed on a recently-launched communications satellite, Larry Kales examines some similarities and differences between it and the items included on the Voyager and Pioneer spacecraft as symbols of our life on Earth, good and bad.
Monday, February 25, 2013
Jerry Ross might not be a household name, even in the space industry, but he is an accomplished astronaut, flying on seven Space Shuttle missions from 1985 to 2002. Jeff Foust reviews a book where Ross describes how he achieved, and carried out, a childhood goal of becoming an astronaut.
Monday, February 25, 2013
On Friday a meteor disintegrated in the skies of souther Russia, causing considerable damage to buildings in the city of Chelyabinsk. Jeff Foust examines whether that, and an asteroid flying close by the Earth the same day, will raise awareness enough about the threat posed by near Earth objects to generate increased government or private funding for search efforts.
Monday, February 18, 2013
A recently-launched commercial communications satellite carried an unusual secondary payload: a collection of images created by an artist, designed to outlast humanity. Larry Klaes begins a three-part look at "The Last Pictures" and their significance.
Monday, February 18, 2013
NASA's Curiosity Mars rover is now in its seventh month of operation on the Martian surface, as mission scientists and engineers deliberately put the rover through its paces. Jeff Foust reports on what Curiosity's lead scientist says is likely in store for the rover in the coming months.
Monday, February 18, 2013
Is there a major deficiency in the ten-year history of this publication? Dwayne Day sees a lack of female writers, which may be indicative of broader issues with the space advocacy community.
Monday, February 18, 2013
The Space Review started ten years ago seeking to take on the big issues facing spaceflight then. Today, Jeff Foust describes another set of big questions, some new and some familiar, facing government and commercial space endeavors for the next decade.
Monday, February 11, 2013
The future of human spaceflight is a key issue for the comping decade. Louis Friedman warns that we run the risk of ceding space exploration entirely to robots if we're not able to inspire people today with human spaceflight.
Monday, February 11, 2013
Elon Musk has indicated in media reports his long-term ambition is to retire on Mars. Can he do it? Sam Dinkin looks ahead a decade and crunches the numbers.
Monday, February 11, 2013
A lot has changed in military space over the last decade, as more countries gain military space capabilities. Taylor Dinerman argues that this brings with it new risks over the next decade as well.
Monday, February 11, 2013
The Space Review started as an experiment: would people be interested in long-form articles on space issues? Jeff Foust says that experiment is still in progress, ten years later.
Monday, February 11, 2013
Lockheed Martin is making a new attempt to revive the Athena launch vehicle, getting endorsements, but as yet no contracts, from government agencies. Dwayne Day examines the long, and often rocky history, of this small launcher.
Monday, February 11, 2013
A series of telecons, little known outside of a small part of the space community, have been actively discussing a variety of topics for future activities beyond Earth orbit. Harley Thronson and Dan Lester describe the origins and current activities of the Future In-Space Operations group.
Monday, February 11, 2013
While NASA is busy operating the Hubble Space Telescope and building its successor, the James Webb Space Telescope, some are thinking about what comes after those missions. Jeff Foust reports on various efforts ranging from repurposing "free" telescopes provided by the NRO to using the ISS as an astronomical technology testbed.
Monday, February 4, 2013
Underwater training is taken for granted today as a necessary measure in preparing for spacewalks, but nearly half a century ago that wasn't the case. G. Sam Mattingly provides his perspective as one of the key proponents for underwater training for EVAs during the Gemini program.
Monday, February 4, 2013
Last week, South Korea joined the exclusive club of nations that have successfully launched satellites, a month after its neighbor to the north did the same. Ajey Lele argues that South Korea's success may be lost in larger geopolitical crises in the region.
Monday, February 4, 2013
It's not necessarily the most famous astronomical observatory, but the European Southern Observatory is certainly one of the most productive. Jeff Foust reviews a book that offers an overview of ESO's 50-year history and its ambitious future plans.
Monday, February 4, 2013
After years of uncertainty and delays, Russia's lunar exploration plans are starting to become clear. Dwayne Day reviews those plans for orbiter and lander missions and explains why Russia might be the most active nation exploring the Moon in the next decade.
Monday, January 28, 2013
Last week, for the second time in less than a year, a new company announced plans to prospect and, eventually, extract resources from near Earth objects. Jeff Foust examines the similarities and differences Deep Space Industries has compared to Planetary Resources, and what this may mean for the viability of the industry as a whole.
Monday, January 28, 2013
As a second company enters the asteroid mining market, one key question is how to finance the large-scale extraction of resources from asteroids. Vidvuds Beldavs proposes a system that could handle extraterrestrial claims and help support efforts to mine asteroids and utilize their resources.
Monday, January 28, 2013
NASA's James Webb Space Telescope suffered cost and schedule problems that put the program's future in jeopardy just two years ago. Now, Jeff Foust reports, NASA and industry officials say the program is back on track even as NASA's overall budget remains uncertain.
Monday, January 28, 2013
Potential solutions to climate change face varying obstacles to their implementation. John Hickman argues that one space-based approach might be unique enough to get around those obstacles.
Monday, January 21, 2013
As a new study on the rationale for human spaceflight gets underway, many people are likely to consider historical parallels in exploration as one justification for sending people into space. Dan Lester argues that doing so without taking into account our evolving robotic capabilities is tantamount to, and likely to be as successful as, a cargo cult.
Monday, January 21, 2013
Last week NASA announced a deal with ESA to provide the service module for the Orion spacecraft and a contract with Bigelow Aerospace to send an inflatable module to the ISS. Jeff Foust reports on these developments and how they show the strengths of such partnerships, but also how they risk being oversold.
Monday, January 21, 2013
Why establish "waystations" at the Earth-Moon L1 point or other locations in space, as some have proposed? John Strickland draws an analogy to terrestrial transportation systems to explain how such facilities could make space exploration and development more affordable.
Monday, January 21, 2013
Infrared astronomy is difficult to do from the ground because of the atmosphere, so astronomers seek to get above with both satellites and aircraft. Jeff Foust checks on the status of a NASA airborne observatory that is finally ready to begin regular science flights.
Monday, January 21, 2013
Last week astronomers met in California to discuss the latest discoveries in the field, and the study of extrasolar planets was front and center. Jeff Foust reports on the wealth of exoplanet discoveries that are giving scientists new clues about how common planets, and potentially Earth-like ones, are in the galaxy.
Monday, January 14, 2013
To fill a looming gap in satellite imagery, the NRO pursued an unusual mission in the early 1980s. Dwayne Day describes this effort, and what went wrong.
Monday, January 14, 2013
NASA is looking at several options for new rocket engines to power the boosters of the Space Launch System heavy-lift rocket. Anthony Young notes that this, plus Air Force interest, has driven work on new hydrocarbon rocket engines, including one based on the venerable F-1.
Monday, January 14, 2013
Two of the four shuttle orbiters assigned to museums are currently open to the public: Discovery at the Udvar-Hazy Center and Endeavour at the California Science Center. Jeff Foust pays a visit to both to compare and contrast the displays.
Monday, January 14, 2013
The Defense Department authorization bill, signed into law last week, included a provision dealing with any efforts by the Obama Administration to negotiate an international code of conduct for space activities. Michael Listner explains how this continues a battle between the White House and Congress on who has the authority to enter into such an agreement.
Monday, January 7, 2013
As the Sun approaches the peak of its 11-year activity cycle, there's renewed awareness, and concern, about the effects space weather can have on society, including disrupting communications and the power grid. Jeff Foust reports some people remain worried about the ability to predict such storms and to prepare for them.
Monday, January 7, 2013
Small satellites are capturing the attention of scientists and engineers around the world. Igor Afanasyev describes one successful effort in Russia to fly a small satellite utilizing open source technology.
Monday, January 7, 2013
The search for extrasolar planets is driven in large part by the search for planets around other stars with similar masses, orbits, and compositions as the Earth, and thus potentially hospitable to life. Jeff Foust reviews a book that examines the state of exoplanet research and the personalities of the "exoplaneteers" seeking those other Earths.
Monday, January 7, 2013
Visit the Archive for additional articles.